Victoria Swarovski, Ambassador of the exclusive complex, The Gallery by Minotti Marbella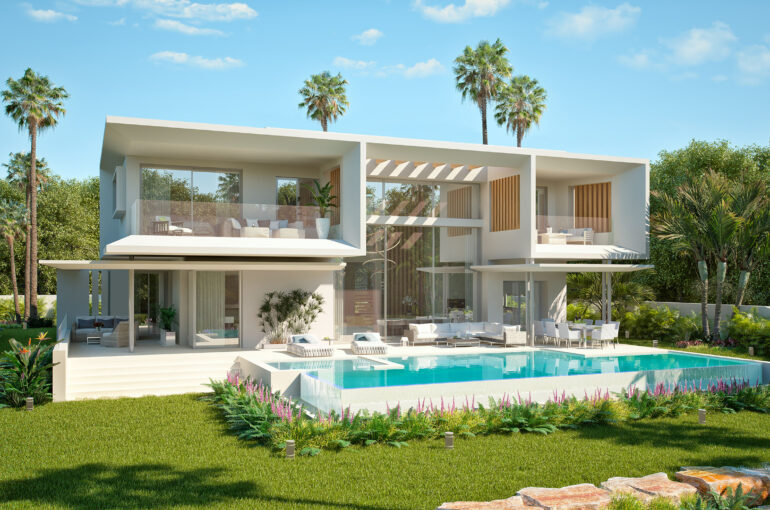 The new project, developed by the renowned development group Roel Homes, and exclusively marketed by Engel & Völkers Marbella, reinvents the concept of luxury urban living on the Costa del Sol.
The singer and song-writer has just secured one of the 33 properties that make up the project.
20% of the villas in the complex are already reserved and the first arrivals are expected to take place in Spring 2025.
Marbella, 6th June 2023 –The heiress of the crystals empire, Victoria Swarovski, has joined forces with developer Roel Homes as Ambassador for the Project and has also acquired a villa for her own stays on the Costa del Sol.
The Gallery by Minotti Marbella is nestled in a privileged area of more than 4.5 hectares that make up an exclusive, gated and completely private residential complex with services of a 5-star resort.
Swarovski actively promotes various brands through her social media and from now on, she will be the new image of the exclusive residential complex. At only 29 years old with a successful music career, she is also the founder of her own cosmetic company, ORIMEI Beauty, that provides top quality makeup and skincare products. Among her collaborations, it is important to highlight her partnerships with exclusive brands such as the luxury hotel groups, Oetker Collection and Mandarin Oriental, and the haute couture fashion house, Giambattista Valli.
The Gallery by Minotti Marbella, developed by Roel Homes, designed by the architectural firm Villarroel, and marketed exclusively by Engel & Völkers Marbella, is a private community project of state-of-the-art homes in Marbella, designed for an emerging type of client that looks for sustainable constructions, surrounded by nature, with a high level of resort-style services, communal areas and maximum security.
The complex, located in Palo Alto, at only five minutes away from the centre of Marbella, has caught the attention of the singer and song-writer who has just bought one of the 33 properties that make up the residential complex.
The young Austrian was captivated by the incredible views from the plots and the magnitude of the development, and expressed her enthusiasm, stating that "The Gallery by Minotti Marbella is a private resort of villas which embodies the pinnacle of luxury and enjoys all of the wonders of nature. Now that I am embarking on this journey of building my villa here, I can't wait to call it my special retreat."
The prices of the villas range between 2,700,000€ and 3,600,000€ and come with 4 different style types (4 and 5 bedrooms), with artists' names (Klimt, Van Gogh, Pollock and Monet) as well as the possibility for customisation depending on the client's specific needs. All of the residences are situated on plots with an area of more than 1000 square metres, and include high ceilings, lift, saltwater pool, sun terrace, parking spaces and a private garden.
"A spectacular development inspired by the art of living and located in an idyllic natural environment, The Gallery by Minotti Marbella offers beauty and luxury to its residents. These are precisely the characteristics which have captivated the particular interest of our ambassador, Victoria Swarovski, to take part in this innovative architectural and residential project in Marbella. It is an honour for us that she is going to be one of the home owners and brings great brand prestige to have her image linked with this development," added Matías Villarroel, Director of Roel Homes.
Incredible views, complete privacy and exceptional leisure facilities are the main characteristics of this unique residential complex in the Marbella area, which includes a private owners club with a spa, indoor pool, saunas and steam rooms, gym, beauty area, coworking space and a fine dining restaurant. Also, within the private community, residents will be able to enjoy different sport areas such as a tennis court and a large green valley with open spaces, an outdoor training circuit and yoga pavilions named "Serenity Valley". All of the above is managed thanks to the extraordinary personalised services offered by the community management and concierge team.
"We are extremely pleased with this partnership. It is a great honour for us to have Victoria Swarovski as the Ambassador of The Gallery by Minotti Marbella, given that she represents all of the values of premium clients who look for a stress-free life within a safe gated community, where not only villas are offered, but also the desired luxury lifestyle and the inherent services which accompany this standard of living," Smadar Kahana added, Director of Engel & Völkers Marbella. "The new consumer of high-quality real estate doesn't want to follow in the footsteps of previous generations, which bought property in the area as a holiday home or to retire here, but instead prefer to buy sooner and enjoy all the amazing things that this unique city offers right now", she concluded.
Engel & Völkers Marbella
Engel & Völkers is the world's leading service company specialising in the brokerage of luxury residential properties, commercial real estate, yachts and aircraft, and is present in more than 1000 locations in 30 countries across 4 continents. In Marbella, Engel & Völkers has 6 offices, located in strategic locations in the city, and offers both private and institutional clients a wide range of tailor-made professional services, providing access to a wide range of potential international buyers and a proven track record of success over the years.