The Gallery by Minotti Marbella, a project of Roel Homes that will represent a step forward in the concept of luxury living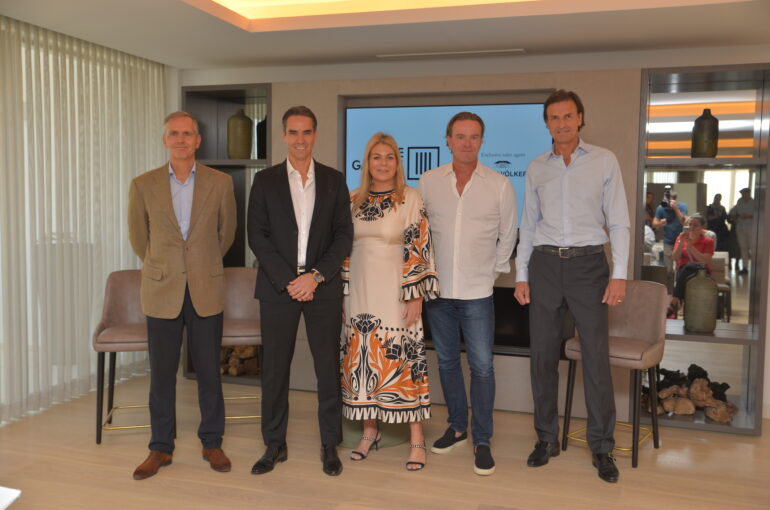 The Gallery by Minotti Marbella, a project of Roel Homes that will represent a step forward in the concept of luxury living
Engel & Völkers will be the exclusive marketer of this private gated community of 33 villas with sea views, exceptional communal services and leisure facilities, in the style of a 5-star resort offering a level of luxury living that has not been seen in Marbella before.
The facilities and services coupled with the personalization of the homes are some of the value propositions of this unique project in the area
Marbella, November 2nd 2022-. With the growing demand for luxury homes, by increasingly young and demanding clients, a sustainable type of construction is imposed, in private communities surrounded by nature, with a high standard of services and common areas where the owner can even personalize the home. The security offered by this type of development has become a key point of great attraction when choosing a villa since the owner not only enjoys common services and facilities but also has the opportunity to live with total peace of mind in a private neighborhood with restricted access.
The Roel Homes development group demonstrates that it has grasped these current market trends with the development of The Gallery by Minotti Marbella. This is a project of more than 70 Million Euros investment for the construction of 33 luxury villas in four different typologies (4 and 5 bedrooms), which will be developed in the area of Palo Alto, just seven minutes away from Marbella City Centre. There is no similar complex in the Costa del Sol area offering this level of luxury living beyond the internationally renowned "La Zagaleta".
The presentation of this exclusive project was held at the Palo Alto Clubhouse, attended by Matías Villarroel, Director of Roel Homes and Director of The Gallery by Minotti Marbella, Smadar Kahana, Managing Director of Engel & Völkers Marbella, and Thomas Atjony, Exclusive Developments Director of Engel & Völkers Marbella.
The luxury real estate company Engel & Völkers Marbella will be responsible for its commercialization based on the concept of an exclusive community with 5-star resort services, which represents a step forward in luxury real estate. The works are already underway and the first delivery is estimated for September 2024. The project involves the creation of more than 100 direct and 250 indirect jobs.
Smadar Kahana emphasised that "Engel & Völkers is very excited about this project which offers a lifestyle that did not exist before in Marbella, responding to the high demand of clients today for a hassle-free living concept within a secure gated community, where owners are offered not only a villa but also the desired way of luxury living with all the amenities they could normally only enjoy in a five-star resort."
The concept of wellness and well-being is what drives the design and construction of these villas that offer a unique lifestyle, an exacting level of security and an on-demand list of services with which to lead a life of uncomplicated luxury. Spectacular views, total privacy and exceptional leisure facilities are the main features of this unique project in the area, which includes a private owners' club, with a spa level with a spectacular indoor pool, saunas and steam baths, as well as
a la carte beauty treatments. Another level of the owners club includes a gym with high-tech equipment and outdoor training facilities. A fine dining restaurant, a co-working space and a sky lounge are also located within the fantastic private club.  There will also be a tennis court in the community, in addition to a future equestrian centre. The community will offer outstanding personalized services to residents through the community management & concierge team.
The unique setting, at the foot of the Sierra de las Nieves mountain range  and just four kilometres from the centre of Marbella, completes the spectacular nature of a development that, according to Villarroel, is "inspired by the art of living", an art that begins in the very nomenclature of the villas within this premium lifestyle destination.
Thus, the artists Klimt, Van Gogh, Pollock and Monet, together with the design company Minotti Marbella, are the ones that categorize its four elegant designs whose prices range from 2,850,000 Euros to 3,600,000 Euros. The Klimt and Pollock Villas have five bedrooms, while the Van Gogh and Monet Villas have four. All of them are located in plots of more than 1000 sqm, have high ceilings, lift, a saltwater swimming pool, a sun terrace, parking spaces, and a private garden.
They are architecturally harmonious constructions that will form the basis of highly individualized homes. The clients themselves will have the opportunity to work with the architects and designers to give their own touch to the villas. The architects are thus called upon to create the "basis" of the home by configuring it according to the practical needs, lifestyle and taste of its owners, who will be the ones to personalize their own work of art.
Villarroel also spoke about this, saying: "The Gallery by Minotti Marbella is a real estate project conceived under the ARTchitectural concept of creating a community of villas where each one of them is a work of art. We wanted to build homes with an artistic spirit and attention to aesthetics, located in an idyllic natural setting that offers its residents beauty and luxury. The collaboration of Roel Homes and Minotti Marbella is flawless and will allow us to offer to our clients a unique product in Costa del Sol"
A unique community
Outside, the aim is to create a vibrant and unique community in harmony with nature that is present in all facets of this project, which envisions a lush "Serenity Valley" with open spaces.
In addition, features such as low-impact design, energy-efficient systems and the use of sustainable materials are just some of the points that will lead the marketer to apply for sustainability certificates.
The Gallery by Minotti Marbella is built around the concept of high quality of life in which the feeling of belonging to the community plays a key role. An example of this is the owners' club planned within the site, which is designed for multiple activities and social life.
Residents will also enjoy their own restaurant, training circuit, green area, putting and chipping green for golf practice, a children's playground and an ambitious concierge service. The community is also protected by three different levels of security; undoubtedly, a total guarantee in the present times.
 About Engel & Völkers Marbella
Engel & Völkers is represented in Marbella with five offices in strategic locations and is for many years the market leader in the real estate sector in Marbella, specializing in the marketing and sale of mid to high-end properties.
Engel & Völkers is one of the world's leading service companies specializing in the brokerage of luxury residential properties, commercial real estate, yachts and aircraft. Present in more than 800 locations in 34 countries on 4 continents, Engels & Völkers offers both private and institutional clients a wide range of tailored professional services, providing access to a wide range of potential international buyers and with a proven track record of success over the years. Advisory, sales and rental services are the core competencies of Engel & Völkers' more than 12,837 people.
About Villarroel Torrico Architects
With more than 25 years of experience in luxury design, this Marbella based firm approached this project with the creation of different typologies to suit the requirements of the client on the Costa del Sol. Together with their extensive experience in this type of projects, they have designed the "basics" of the project that are perfectly adaptable to the client's requirements.
About Stronhold Asset Management
Acting as financial advisors to the project, Stronghold will be focused on the reporting, control, and management of the investment in the project. Working hand in hand with Roel Homes, they will diligently report and inform the investors of the project.
About Roel Homes
Roel Homes is a real estate investment, management and development company with more than 25 years of experience focused on developments with a high component of "Lifestyle destination". All this is combined with an architecture focused on environmental sustainability and quality of life for the owners of its developments.
In addition, it is part of its business philosophy to apply great care to the final details, as well as meeting deadlines and the high quality of its promotions.
Minotti Marbella & Upgrade Living Spain
Upgrade Living Spain, the well-established Swedish high-end design and development company since 20 years, opens an additional office in Marbella to meet the high demand from Swedish and international long term clients. Mats Gustafsson, Founder and Creative Director of Upgrade Living, is the man behind the establishment of the Italian firm Minotti Marbella. With vast experience from the industry and opening the first Scandinavian Minotti Flagship store in Stockholm, Mats Gustafsson is already involving Minotti Marbella in prestigious projects along the Spanish coastline. The Minotti Marbella flagship store, located next door to Hotel Marbella Club and international luxury companies such as Chanel and Louis Vuitton, will be one of Minotti´s largest European flagship store. This Italian high-end furniture company store will open during early Spring 2023.
"I am proud to have Minotti Marbella take part in this grand project called the Gallery. It goes hand in hand with the high design aesthetics of the Minotti brand. In this unique concept Minotti Marbella & Roel Homes are a perfect match" says Mats Gustafsson, founder Minotti Marbella & Upgrade Living Spain.
.
Más información:
MN COMUNICACIÓN
TEBA SILES
696 321 130