Club Med reinforces its bond with Spain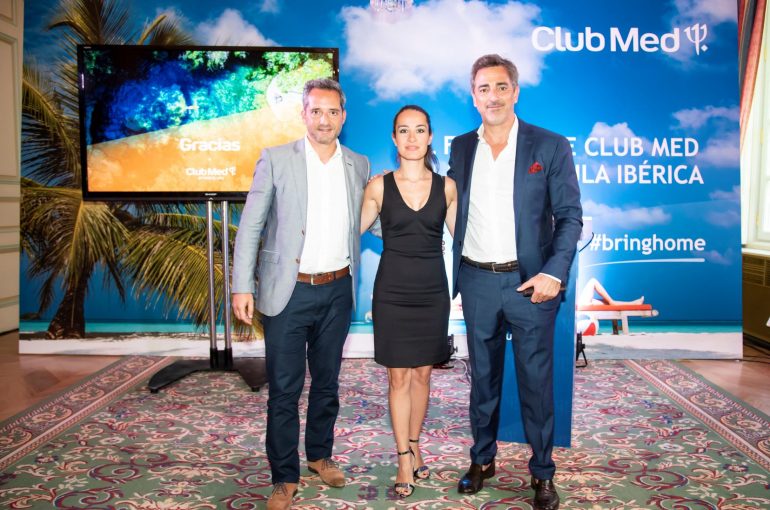 Club Med reinforces its bond with Spain doubling the number of Spanish clients thanks to the 11 new Winter Sports & Seaside Resort launches in the next two years.
Club Med aims at becoming a leading player in the premium All Inclusive resort sector, offering
transformative holidays for Spanish families. This is achievable through the unique experiences offered by Club Med and the new accommodation capacity offered in the Iberian Peninsula and in some of the most beautiful sea and mountain destinations worldwide.
Madrid, July 3rd 2019.– Club Med presented its new strategy this morning to consolidate its position as the first choice for Spanish families and active couples seeking All Inclusive premium vacations and exclusive experiences.
The bond between Club Med and Spain is a very special one, which dates back to the company's earliest days. No other character expresses Club Med's spirit, atmosphere and sense of fun better than the Spanish, so it was high time we renewed this brilliant relationship. It is no coincidence that next year will mark another key moment in this revival: the return of a Club Med to Spain with Magna Marbella, where an oasis of fresh experiences awaits guests keen to discover the wonders of Andalusia.
Why Club Med is the best choice for Spanish families looking for transformative holidays
In today's world with its numerous commitments, it is not easy to pursue interests or spend time with those we love, which is why Club Med has provided a solution to this problem, being pioneer of Transformative Holidays, its mantra is to "bring home more than just memories". Club Med offers a new holiday concept: Club Med is the best transformative family holiday characterized by experiences that are waiting to be enjoyed in the recently renovated Da Balaia (Portugal) and the Les Arcs Panorama Resort (French Alps), as well as in the forthcoming Michès (Dominican Republic), Marbella and Alpe d'Huez (French Alps) locations.
At Club Med you have the opportunity to learn new things, take up new challenges with activities such as the flying trapeze, make new friends and discover new interests and lifestyles through the unique experiences offered by a Club Med vacation.
Those wishing to discover new interests or cultivate existing ones can take advantage of the Amazing Weeks package, consisting of four theme weeks in selected Resorts around the world, inviting guests to experience unique moments, offering a complete programme of activities ranging from sports, wellness and music, as well as photography.
Champions Week: tournaments and meetings with the great names of golf, tennis or skiing in partnership with Lacoste and Rossignol, in which precious tips can be gleaned from the professionals.
Master of Photography: photography workshops in partnership with Nikon ambassadors to learn how to takes original pictures in natural surroundings.
Wellness Experience: treatments in the Cinq Mondes spas, yoga and meditation sessions held by wellness experts.
Music Festival: the first Club Med festival "On the Beach" in partnership with Cabourg
The result of this is that guests return home with much more than a bunch of memories, they come home having had an all-round experience based on the brand pillars of a Club Med experience:
Preserved Heaven-On-Earth Location
Widest Reaching Sport School
Gourmet Experience
Nurturing Childcare
Revitalizing Relaxation
Unique Club Med Spirit
Club Med puts families first, in order to offer parents and children the opportunity of bonding and maximizing the positive effects of a holiday. There are new facilities dedicated to families, from the Aguamarina space at Club Med Cancun (Mexico) with 60 new family rooms, to the new swimming pool with aquatic games at Club Med La Pointe aux Canonniers, not to mention the Family Experience Restaurant where it's the children who have the chance to invite their parents out to dinner (Les Arcs Panorama).
Amazing Family is the innovative programme offering activities for parents and children to do things together, accompanied by GO experts, with guaranteed fun for everyone. The offering rotates around 4 main themes:
Time to play: board games made out of wood to play in the open air
Time to splash: water games for all ages
Time to quest: adventure games played throughout the Resort
Time to relax: relaxing activities such as family yoga sessions or reading a book on a hammock, lulled by the sound of the sea
With its specifically targeted child care service for kids and teens aged between 4 months and 17 years, Club Med makes the ideal choice for family holidays. To make it even more affordable for families, starting from January 2019, with the Happy Family scheme, children aged under 6 will stay at seaside and mountain Resorts free of charge. This special offer may be accumulated with that of Happy First, which offers a 15% reduction on advance bookings.
Club Med is also the best option on the Family snow holidays. With its All Inclusive offer for winter holidays, including skiing courses and ski passes, ski-in and ski-out resorts, Club Med is the market leader in this particular holiday segment, with an offering of some of the most amazing Alpine destinations
11 New Resorts launches are planned for the next two years
Club Med has also upped worldwide projects in order to pursue their goal to open at least three new resorts every year, of which at least one will be in the mountains. Starting from December 2019:
– New opening of Club Med Michès Playa Esmeralda, on the wild northern coast of the Dominican Republic, the first Exclusive Collection resort in the Caribbean;
– Club Med Alpe d'Huez, the new 4 Trident resort located in a most favourable position which, apart from skiing, will offer sports activities in summer and winter;
– Club Med La Caravelle (Guadalupe) which, following its complete renovation, will offer new infrastructures for families (Kids Club) and also for couples (Zen Zone, spa…)
2020 starts with the inauguration of the Chalet de Grand Massif and continues with the opening of the Club Med Magna Marbella in March for the great return to Spain. Other openings in the pipeline are those of the Seychelles and the mountain resorts of La Rosière and Quebec Charlevoix, the renewal of Paisey Vallendry, the extension of Pragelato in Italy and Val d'Isière, destined to become part of the Exclusive Collection range.
A new marketing strategy, and important distribution initiatives, will strengthen Club Med's presence in the country, and help develop the potential of this steadily growing nation.
Club Med has invested in the Spanish market by presenting an ambitious multichannel strategy for the Iberian Peninsula, with investments up by 26%. These have enabled active families and Spanish couples to discover the new Club Med product: transformative holiday experiences at some of the most beautiful destinations in the world.
Visitors to Spain are aware that the market has grown considerably in recent years owing to widespread digitalization and economic recovery, which has called for a new approach and new organizational methods in order to respond more effectively to customer needs. Hence the need to redesign company, which is now being directed by Eyal Amzallag, the Managing Director for Southern Europe and Emerging Markets.
"David Delgado, Commercial Director for the Iberian Peninsula who has been with Club Med since 2000, is a key figure in the region, engaged in supporting our partners, creating new synergies in Spain and Portugal, strengthening brand awareness and growing our market share," says Eyal Amzallag, "his presence will play a decisive role in the growth of our agencies, providing each partner with the necessary tools to publicise the product and grow its market appreciation, while optimizing the customer experience".
Digital-based communication
"Significant investments will be dedicated to digital communications for supporting customers throughout their browsing experience on the www.clubmed.es website. This website will be constantly updated with new contents regarding the destinations waiting to be discovered and resorts designed to suit all requirements, whose offering of experiences caters for all interests" says Alessandra Marinacci Marketing & Communications Director for Southern Europe. However, great attention will also be dedicated to the holiday period itself, before, during and after. This will be enabled by tools for getting the most out of every moment, from the choice of advance room booking to enjoying services while on vacation, as well as an attentive CRM plan.
Expert Travel Advisor
From Mondays to Fridays, between 9 am and 7 pm, Expert Travel Advisors may be contacted by phone to help customers plan every detail of their holiday and to offer general assistance.
• Telephone number for customers 900 60 30 30
• Telephone number for travel agencies 902 011 211
Live website chat service from 1st August
For those who prefer to make their own arrangements, live web chat support is available every day, providing personalized advice, guidance on the Club Med experience, help with the final choice of destination, information on resorts and assistance with direct online bookings.
Augmented reality is one of the tools employed to make the users' experience a particularly inspirational one, even before the actual booking is made. An immersive experience is provided as they view major resorts, complete with the enjoyment of 360° virtual tours, in the comfortable setting of their local agency.
Always one step ahead
Founded in 1950 by Gerard Blitz, Club Med invented the concept of an all-inclusive vacation, as well as the Mini Club for younger customers in 1967. Driven by its pioneering spirit, Club Med is continually looking for exceptional destinations and sites. Today, Club Med is the world leader in high-end all-inclusive holidays for families and couples. Club Med manages over 70 resorts, of which the vast majority are made up of 4 and 5 Tridents. Currently with a presence in 30 countries around the world, Club Med employs over 23,000 "Gentils Organizateurs" (G.O) and "Gentils Employés" (G.E), who represent 110 different nationalities.
MN Comunicación organised the press conference and wrote the release.