The American College in Spain becomes the International Transfer Center of Broward College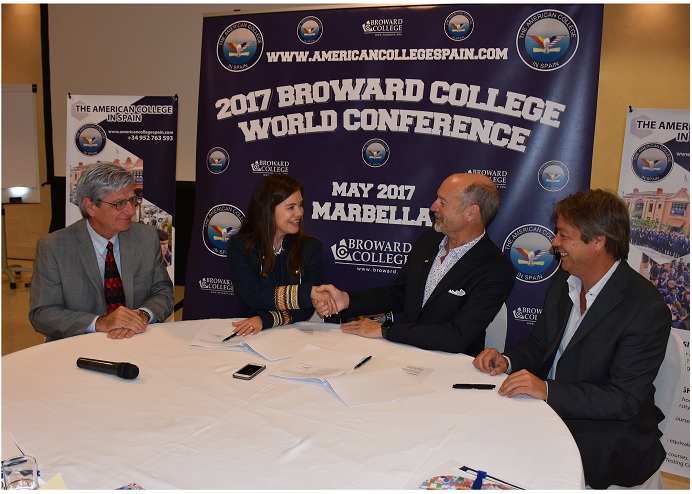 The American College in Spain becomes the International Transfer Center of Broward College
The agreement was signed by Melissa Butler, the founder of The American College in Spain, and J. David Armstrong Jr., the President of Broward College
Marbella, May 12th, 2017: The President of Broward College, J. David Armstrong Jr., and the founder of The American College in Spain (ACS), Melissa Butler, have signed this morning an agreement establishing ACS as an 'International Transfer Center of Broward College', coinciding with the celebration of The Broward College Word Conference in Marbella. Through this agreement, when students enrol in Marbella, they will automatically be enrolled in Broward College, allowing them or her to transfer directly to other institutions in the United States after finishing a two-year degree. Broward has established partnerships of this kind in several countries including those represented at the World Conference.
Butler said that: ¨It an incredibly important agreement for us as after four years of offering an American education in Spain, we are now formally recognisable as an international center for Broward College, meaning students are registered as being a part of Broward College in Florida, without any need for proof of affiliation. After two years here, with the cost of education not being as high, the student finishes their degree in the United States¨. Not long ago Marbella had no university and Spanish students went to Malaga, but those coming from international schools had to travel to England or remain in their home country´, she explains. ¨What´s more, many young foreign athletes come to Marbella to train which, thanks to this agreement, they are now able to do as they can apply for scholarships from American Universities offered to athletes.
Armstrong highlighted the fact that ¨Many similarities exist between Marbella and our home town, Miami, something I discovered on my first visit to the city, and now we can add to this, as the American College in Spain becomes and international center as in this city students will receive the same American education that is available in so many other countries around the world, which are represented here as they take part in the Broward College World Conference.¨
An agreement that marks and educational milestone for the municipality that was represented by Ricardo Lopez, advisor responsible for the tax office of the City Hall of Marbella who thanked the American College in Spain and Brower College for choosing Marbella for their educational offer. ¨One of the best things that Marbella has, and the thing that distinguishes it from other cities is that it offers extra services across all fields, and now amongst these extra services, college education at the highest level¨, he explained.
Elías Bendodo, president of Turismo Costa del Sol, was unable to attend the meeting, however, wanted to offer a message of support. In the words of the president of Turismo Costa del Sol, "it is a proud moment for the province of Malaga to be hosting Broward College´s World Conference". In any case, it has reaffirmed the Costa del Sol´s place "as a destination open to all cultures, by means of its enormous cultural and educational offers that makes each citizen feels at home", as well as highlighted the ability of the province to host events of this esteem, "thanks to the extraordinary and growing infrastructure in matters of congregations and meetings that the Costa del Sol has".
In other news, Bendodo acknowledged the fundamental work of the American College in Spain, situated in Marbella, "as it has expanded the educational offer of the area, undoubtedly enriching the intercultural nature that characterises the south of Europe".
Broward College
Located in South Florida, Broward College is the first and largest institution of higher education in Broward County. Since its founding in 1960 it has awarded degrees to more than 100,000 students. Some 65,000 students from more than 150 countries are currently studying at its Ft. Lauderdale campus. Broward College is accredited by the Commission of Colleges of the Southern Association of Colleges and Schools to award Associate and Bachelor´s Degrees. According to the Aspen Institute, a prestigious organization located in Washington, DC, it ranks among the top 3 community colleges in the US.
The American College in Spain
The American College in Spain, organizer of the event, has created the first American university of Andalusia. Located in Marbella, it offers a curriculum under the United States university system. A degree from an American university increases considerably the possibilities in the international labour market. The American educational system allows students to complete two years of studies before choosing their major. This system, known as 2+2, draws on a unique academic element that allows students to spend their first two years studying at The American College in Spain, gradually adapting to the system, the language and with lower financial implications for the student´s family.
Students can begin in Spain their first two years of studies by completing their general education courses required by all U.S. universities. After completion of these two years, students are transferred to a university in the U.S. where they will complete their degree.