Tel Aviv University´s Second Official Visit to the Costa del Sol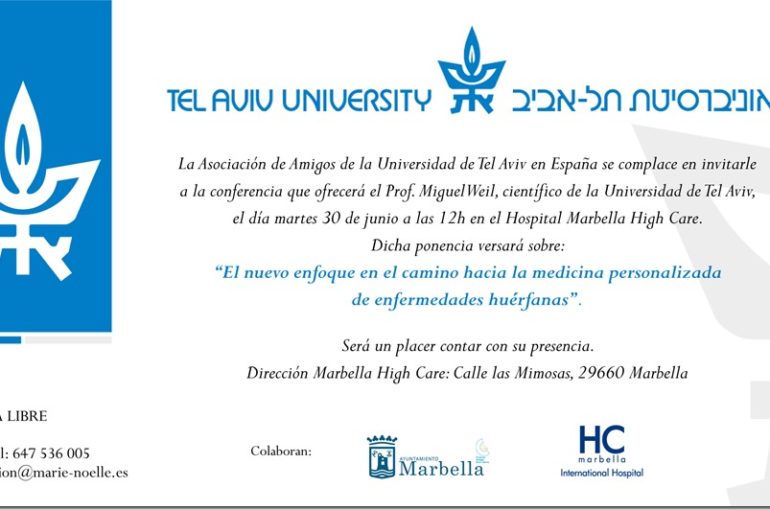 Amongst the programme of events there will be: scientific meetings, governmental appointments with city councils in the province and meetings with TAU´s Friends Associations in Spain.
Marbella, Friday 26th June 2015.- From Sunday 28th June to 2nd July, a delegation from Tel Aviv University will be on an official visit to the Costa del Sol, following a successful visit in summer 2014. The team will be made up of Amos Elad, TAU´s vice-president, Herman Richter, representative for Latin America and Spain, scientists and doctors Orna Elroy-Stein and Miguel Weil, and PhD student Melissa Herrero.They will be travelling to the province of Malaga specifically to fulfil a busy itinerary.
Their tour will include some revealing scientific activities, particularly regarding medical advances that TAU has achieved in the field commonly known as "orphan or rare diseases." They will also be attending various institutional appointments to increase the University´s diplomatic relations and strengthen links with the only presence it has in Spain. Tel Aviv University´s Friends Association in Spain.
The calendar of events for TAU´s 2nd official visit is as follows:
*Sunday 28th June: Private meeting between expert doctor Orna Elroy-Stein and a group of Spanish families linked to rare genetic illnesses (brought together by http://www.elaespana.es/).
*Monday 29th June: Itinerary organized by Malaga University (with whom TAU signed a "Memorandum of Understanding" (MoU) last year; as well as a visit to Andalusia Technology Park, where doctors Weil and Elroy-Stein will be giving two seminars to offer a sharing of knowledge between scientists from BIONAND – Andalusian Centre for Nanomedicine & Biotechnology. On the same day, they will be received by the mayors of Malaga (Francisco de la Torre) and Torremolinos (José Ortiz).
*30th June: The renowned professor Miguel Weil will give a conference at Marbella High Care on personalized drug recovery for the aforementioned diseases. It will begin at 12.00 noon and will be open to the public (until it reaches its capacity).
*1st July: The mayor of Marbella, José Bernal, will receive TAU´s delegation in his office. This will be followed by various meetings with entrepreneurs in the area. The party will be received and accompanied at all times by Patricia Nahmad, recently elected president of the Tel Aviv University´s Friends Association in Spain (AAUTAE); a group that was established this 2015 and is based in Marbella. The University has about 30 assocations of this kind across the globe, in approximately 20 countries.
Event: TAU´s 2nd official visit to the Costa del Sol. Several events planned.
Place: Costa del Sol. Various cities in the area: Malaga, Marbella and Torremolinos.
Date: 28th June – 2nd July.
Time: Depends on the event.