Successful launch of EGO, the first production from Wennare Dance Company, in the Felipe VI Auditorium of Estepona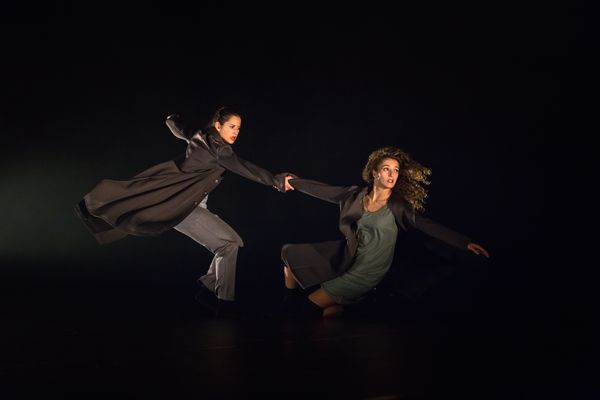 The spectators experienced a night packed with emotion with a staging full of strength and feeling
Estepona, 8th December 2017 – Wennare Dance Company yesterday debuted EGO with a sold out Felipe VI Auditorium. The first production from the company with roots in Estepona had great expectation and did not deceive those present who enjoyed a performance which perfectly combined strength and feeling.

Before an excited audience, the ballerinas, from Spain, Georgia and France developed on the floor of Felipe VI all the plastic and communicative capacity of contemporary dance. A programme comprised by two choreographies, directed by the choreographer Yuri Gudushauri, which reflects the life of a person just before vital crossroads. An individual story in which, however, all the spectators could see reflected upon themselves. Life is like a train journey in which we don't know which station we will get off at or what we will find there.
A fresh performance with the eternal dichotomy between good and bad, between light and dark, the difficulties that on occasions we have to find out which is the best path or temptations to choose the path of the shadows explained from the movement to the rhythm of epic music full of potential and intensity. One of the big attractions of the work was the soulish contrast between the two acts which held the viewers' attention at all times. A contrast that however, followed the same artistic line with complicated lifts, a very athletic assembly and extensive synchronised passages.
After its one night performance in Estepona, EGO continues the preparation of its tour which will start in Andalusia and continue through the rest of Spain, bringing the name of Estepona to wherever it finds itself.
Veronika Ulkina, director of Wennare Dance Company showed her thanks for the support from the Town Hall and the Felipe VI Auditorium, "without which this project would not have been possible" and of course, she also thanked and was overwhelmed by the response of the public: "For us it is very important to see that the message has arrived to people and that they are delighted with what they have seen". "The language of contemporary dance does not have idiomatic or cultural barriers, it is pure expression and therefore anyone can understand it and enjoy it", she concluded.
Wennare Dance Company
Wennare Dance Company is a young contemporary dance company founded in the Felipe VI Auditorium of Estepona which develops its work from two aspects: production and formation.
From production, it creates performances and choreographies in order to publish contemporary dance as a method of expression away from topics and offers an excellent opportunity to ballerinas of contemporary dance to find a place in which to develop their career as it is an open company and in full development.
When training, contemporary dance gains a space in Estepona and allows it to be more known and subsequently understood and loved. Classes are taught through the School of Russian Ballet.