Round Hill Capital will invest 250 million euros and generate hundreds of direct and indirect jobs with the luxury housing development Palo Alto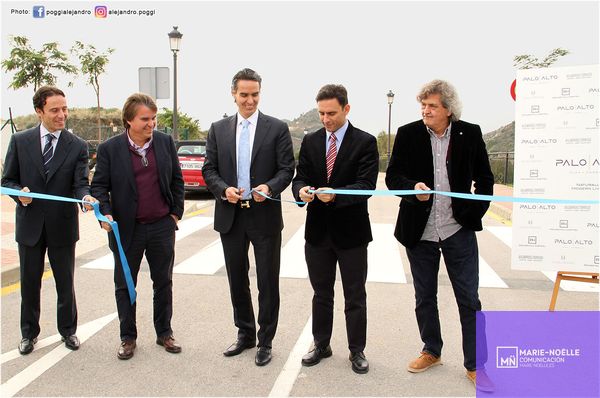 The project, which now has a licence for Phase 1 and is in accordance with the PGOU of Ojén, will be situated just 4 minutes from the La Cañada shopping centre in Marbella
Marbella, November 30th 2016: Today marked the presentation of the luxury housing development Palo Alto. The meeting began at 9.30am and included a breakfast which went on until midday, with the press conference itself taking place at 10am.
Round Hill Capital, a leading global real estate investment firm, is the developer of this project, designed by the prestigious, award winning architects Villarroel Torrico. Founded in 2002, Round Hill Capital has a proven track record in the acquisition and development of luxury properties. It has invested over 6 billion euros in European Real Estate assets and has developed over 100,000 residential apartments in Europe. Round Hill Capital is currently one of the largest landlords in the Netherlands and CEE region, and in addition owns and operates Nido Student Living, one of Europe's fastest growing and leading student housing companies.
José Antonio Gómez Sánchez, mayor of Ojén and Matías Villarroel, architect and developer, travelled to the site to give the presentation their support. Gómez described Palo Alto as an important project not only for Ojén, but for the whole of the Costa del Sol, due to the fact that "it will invigorate the area, both socially and economically". He also talked about the team of architects and developers, praising them for their professionalism and the quality of their work. Villarroel, for his part, alluded to Palo Alto's slogan: ´Naturally Modern Living´, which, according to his presentation, is something that "reflects exactly what we wanted to achieve with this development". In addition, he explained the reason behind the name Palo Alto. It was chosen in honour of the Pinsapo tree, a native species in the area that will surround the development.
Located on the outskirts of the Ojén, this new real estate development will be built on 50 hectares, of which 40% will be comprised of green open space. Palo Alto's location makes an immediate impression, offering panoramic views of the sea and mountains, all of which can be enjoyed just 4 minutes away from the La Cañada shopping centre in Marbella.
The project, which is in accordance with the PGOU (the municipal town planning agreement) of Ojén, now has a building licence and construction will begin next month. With building work planned between January 2017 and autumn 2018, Phase 1 of the 6 phases planned in total for Palo Alto will be made up of 60 apartments of 2, 3 and 4 bedrooms, and 15 penthouses of 3 and 4 bedrooms, all in a tranquil environment surrounded by nature. Additionally, the master plan includes a Health Club for Phase 1, comprised of a state-of-the-art gym, spa, swimming pool, and kids' club. It also includes a business centre with a concierge service, plus 24-hour security, giving the development a private and exclusive feel. These state-of-the-art apartments vary in price from 440,000 to 1 million euros.

The total investment is projected at 250 million euros, taking into account land development, infrastructure and construction, and will generate hundreds of direct and indirect jobs.
Palo Alto is quickly establishing itself as an ideal destination for those already attracted to the area, something which is attested to by the fact that 50% of Phase 1 homes have been sold in just 4 months. The buyers to date come from 16 countries including Europe (with a high proportion from Germany and Belgium), North and South America and the Middle East. Nearly half are aged 50-60, with 40% in the 40-50 age range. The majority either have older children or are empty-nesters and are professionals from business, finance, medical and design sectors. In terms of preference, the buyers are mainly purchasing as a second home for holidays or to rent out, with a smaller percentage buying as a first home.
Emma Williams
Web: www.marie-noelle.es
Email: eventos@marie-noëlle.es
Mobile: (+34)626 681 308