Luxury holiday rentals are becoming a booming phenomenon in Marbella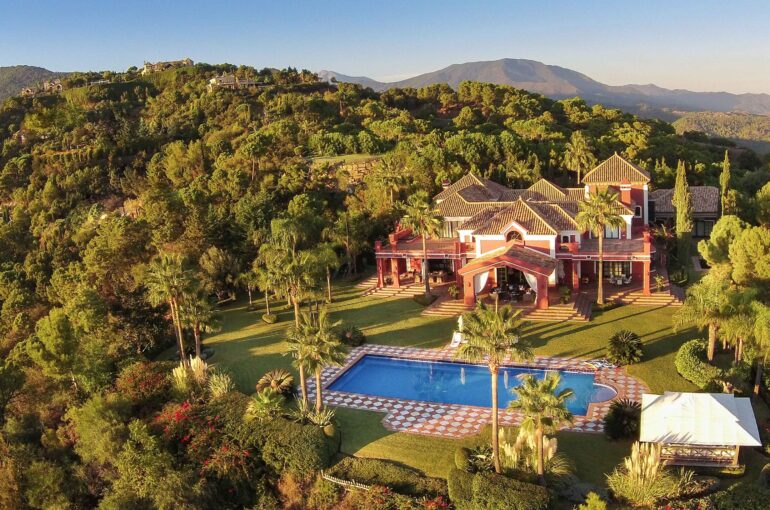 High-end tourists are looking for privacy and personalised services in increasingly exclusive properties.
57% of the total supply of tourist accommodation on the Costa del Sol are holiday rental properties.
With assets under management valued at around €200 million, Marbella Mountain Resorts provides a comprehensive holiday rental management service for 30 exclusive luxury villas, with a total of 150 accommodation places in the area.
The average stay is one week and prices range from €3,000 to €9,400 per night in high season.
Marbella, 28 March, 2023.- Luxury tourism is growing by 30% in Malaga and the well-established holiday rental market is experiencing a large increase in the accommodation offer, according to data from a study by IECA (Institute of Statistics and Cartography of Andalusia). Vacation rental tourism has become an unstoppable phenomenon in recent years, driven by the rise of collaborative economies, teleworking, and changing consumer behaviour to become a complementary offer to traditional accommodation.
This increase also represents a great opportunity for homeowners looking to monetise their real estate that they do not live in throughout the year. However, managing such a property can be a challenging and demanding task, and this is where Marbella Mountain Resorts, a state-of-the-art luxury rental management and tourism services company with over 15 years of experience in the hospitality industry and 10 years in this niche market, makes the difference. For the company, the province of Malaga represents its main market, dedicated to the rental of villas with the same services as a luxury hotel, designing tailor-made experiences for each traveller, always offering the highest quality, privacy, luxury and exclusivity.
"The profile of the client looking to stay in a Marbella Mountain Resorts villa is characterised by being a senior manager of a multinational and technology startups or CEOs of large companies, celebrities, elite athletes, middle-aged and with an average annual income of more than 600,000 euros. The average daily spend of this type of client is around 6,000 euros in high season, including accommodation, which is much higher than the average of around 100 euros," says Luis Ponce, Founding CEO of Marbella Mountain Resorts.
Exclusive clients are looking for "discretion, personalised services and peace of mind, and for this, most choose to put themselves in the hands of a company with extensive experience. When the villa market took off about 8 years ago, they asked for basic things, after the pandemic, this changed dramatically. Now not only asking are they asking for extra services such as daily cleaning, private chef, in-house wellness treatments, airport chauffeur, private trainers and rental cars, but they are looking to integrate into the community and live authentic and exclusive local experiences that money can't buy. MMR has increased its offer in the value chain by organising private flights for its clients not only from the point of origin but also cultural visits to other cities in Andalusia to complement the sun and beach experience. The length of stay has also changed: before the pandemic, they stayed for a week, and now they usually stay between two and four weeks," says Luis Ponce.
The experienced rental company with hotel know-how offers a comprehensive solution for owners who want to generate a return on their real estate assets. Marbella Mountain Resorts manages its properties primarily as an exclusive boutique hotel chain and takes care of the entire process, from cleaning and maintenance of the property, through the management of reservations, marketing and 24/7 guest service. With assets under management valued at approximately 200 million euros, the company acts as a one-stop shop for exclusive holiday rentals, so that owners don't have to worry about anything.
"This hotel approach to the Marbella Mountain Resorts business will undoubtedly ensure an unforgettable experience for guests and increased profitability for the owners," says Ponce.
About tourism in Malaga
According to data from the Andalusian Tourism Registry provided by the Junta de Andalucía, the total supply of tourist accommodation (hotels, tourist accommodation, hostels, etc.) in the province grew by 48% in 2022 compared to the number of beds available in the destination in 2019. This now totals more than 514,000 beds, which means that for the first time, it can accommodate more than half a million tourists a day.
This strong increase has the same common denominator, which is none other than the pull of tourist properties, both newly registered and those that have returned to the holiday market – after the years of the tourism slowdown – as temporary rental properties. In addition, as the CEO of Marbella Mountain Resorts explains, "premium accommodation is expanding and many new products are emerging that are also available for longer stays for those seeking winter retreats in destinations such as the coast and Andalucía".
The data shows that the number of such holiday homes has grown by 87% since 2019 to 62,394 properties. Of these, 55,093 correspond to properties destined for holiday rentals which contribute 291,674 beds to the more traditional hotel offer, representing no less than 57% of the total offer on the Costa del Sol. We must add to these figures the 3,466 rural accommodation units, which represent an additional 22,601 spaces.
The rise of tourist accommodation has therefore meant that hotels have had to share their leadership and have widened their distance from tourist accommodation, even though they have not ceased to grow even in a pandemic. The latest data from the Andalusian Tourism Register for February 2023 shows that there are already 898 hotels in the province, with a total of 108,779 beds.
The best choice of luxury holiday villas on the Costa del Sol
According to Marbella Mountain Resorts, the properties they manage to have an average occupancy rate of 40%, which is lower and better than flat rentals; however, they generate a higher average annual return than apartments and above a traditional rental. MMR focuses on quality over quantity by carefully selecting its clients and partners, ensuring that the interests of its owners are protected.
They currently have a portfolio of 30 properties, 90% of which are under exclusive management, with a total of 150 accommodation places between Marbella, Sotogrande, Ronda, La Zagaleta (Benahavís) and even the Cadiz coast (Zahara de los Atunes), with an average occupancy of one week and prices ranging from €3,000 to €9,400 per night in high season.
This real estate asset management agency is constantly on the lookout for new profitable investments and has a qualified team, with executive experience in international hotel chains, to help its clients and owners successfully manage their holiday homes. The success of its services and the high degree of trust generated among its more than 8,000 satisfied tourists have allowed Marbella Mountain Resorts to position itself as one of the benchmarks within this avant-garde tourist sector.
For more information: www.marbellamountainresorts.com
Teba Siles
Tel: 696 321 130