Knight Frank experts confirm the strength of the luxury real estate market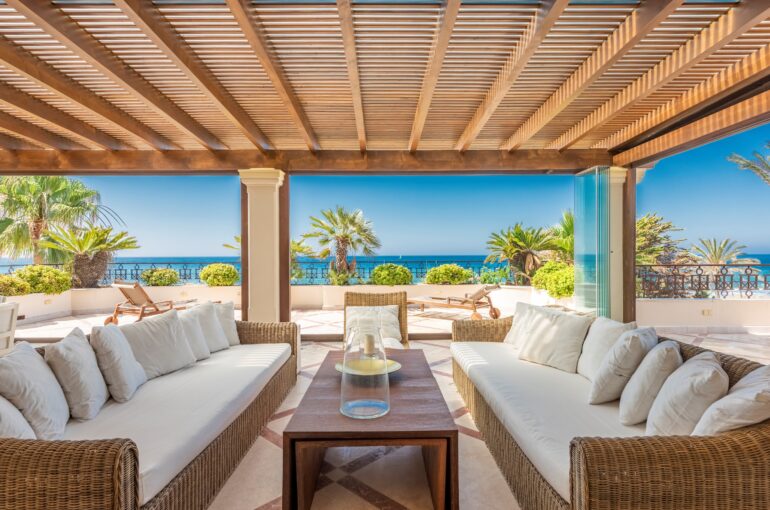 In 2021, the world's population of Ultra High Net Worth Individuals (those with net assets of $30 million or more) increased by 9.3%.
Knight Frank's The Wealth Report 2022 highlights that accumulated savings during the pandemic have enabled investment increase.
Marbella 28th of June 2022-. The Wealth Report 2022, the ultimate guide to prime property and investment released every year by global property consultancy firm Knight Frank, forecasts the strength of the global prime real estate market stating that luxury property has become the investment sector of choice.
The report reveals that in 2021 alone, five million individuals reached millionaire status worldwide. The pandemic and its restrictions increased the savings capacity of this sector, reaching levels of wealth that have not been recorded for years.
Another indicator of the good health of the market is the increase in the Knight Frank Prime International Residential Index (PIRI100) which rose by 8.4% during 2021 (the largest increase since the index was launched in 2008), up from just under 2% in 2020. This encouraging picture is supported by the fact that the number of Ultra High Net Worth individuals (with net assets of US$30 million or more) increased by 9.3% in 2021 compared to the 2.4% growth in 2020.
In fact, as many as 82% of wealth advisors and bankers said that their clients' wealth had experienced growth in 2021 and that savings accumulated during 2020 had facilitated an upward investment in the last 12 months.
Of one hundred prime residential markets tracked by Knight Frank, only 7% registered a drop in property prices, compared to 35% that saw them increase. Rising asset prices, from housing markets to stock markets and luxury collectibles, have also helped to boost the fortunes of those with investment portfolios.
The consultancy firm states that this trend will continue. They predict that between 2021 and 2026, the world population of Ultra High Net Worth Individuals will grow by an additional 28%, and will more than double from 2016 to 2026, raising the global figure from 348,355 to 783,671.
The report also reveals that almost two thirds of UHNWI's wealth is allocated to property, with one third held in primary and second residences and the remainder is invested directly or indirectly into investment properties.
The National Market
In its Real Estate Market Report 2022, Diana Morales (DM) Properties, exclusive partner of Knight Frank in Marbella, also analyses the situation of the Spanish real estate market, highlighting that during 2021, foreigners bought 10.8% of the properties sold in Spain. With the British occupying the first position in the ranking with 11.01% of sales, followed closely by the Germans (9.59%) and the French (7.62%).
This profile changes if we talk about new build properties. In this case, the top three positions are taken by Belgians with 33.7%, Norwegians with 31.82% and Dutch with 24.19%.
Andalusia
In the Andalusian community, foreign buyers accounted for 11.48% of total property sales in 2021, a very similar figure to the one seen the previous year. Once again, the British are the main clients having acquired 16.7% of them, followed by the Swedes with 10.28%.
Marbella, one of the strongest markets
According to Diana Morales (DM) Properties, this town in Costa del Sol is one of the most sought-after markets with the best growth potential.
In the city of Marbella, according to Knight Frank's PIRI index, property prices rose by 5% in 2021.
Pia Arrieta Morales, Managing Partner of DM Properties, points out that currently "there is a domino-effect trend where the decreasing supply of key-ready properties in prime locations is producing significant price increases and a search for suitable properties in neighbouring locations."
What does the high-net-worth buyer look for in Marbella?
DM Properties have identified relevant trends in what buyers want when looking for prime property in Marbella. On the one hand there is an interest in renovated and furnished contemporary villas, and on the other hand in new-build and off-plan apartments expecting profit for resale. There is also significant interest in properties with biophilic design (inspired by nature and incorporating natural materials), that offer concierge services, and sustainable homes.
Another type of highly demanded homes are branded residences – those built under the umbrella of a world-renowned brand – in line with a rising trend in Marbella which has become the destination for several projects by premium brands such as The Four Seasons, Fendi Casa or Karl Lagerfeld, among others.
As for the profile of the buyer in the Malaga province, it has not varied that much compared with previous years. The UK market continues to lead with 16%, followed by Scandinavians with 14% and Belgians with 9%.
According to data from DM Properties/Knight Frank, of the total sales in the towns of Marbella, Benahavís and Estepona, foreign buyers are well above national buyers. Foreigners accounted for 88% of sales in 2019, 82% in 2019 and 94% in 2021.
The city has also benefited from the new boom in remote working, therefore, many families, mostly from northern Europe, have chosen the city as their new home. The good infrastructure of the area and its extensive network of international schools is another aspect that attracts the foreign population.
As far as the prime areas around Marbella are concerned, the depletion of stocks in areas such as Nueva Andalucía, Sierra Blanca, El Madroñal, La Zagaleta and most of Marbella's Golden Mile should be highlighted. It is for this reason that prices in these areas have seen an increase.
As a result of this, DM Properties state that there is a growing interest in the eastern part of Marbella (from Río Real and Los Monteros to Santa Clara), as well as Monte Mayor and Los Flamingos, in Benahavís, due to the huge popularity of its neighbouring Marbella Club Golf Resort.
Pia Arrieta Morales admits that this pent-up demand "is now largely satisfied". Despite this, she considers that "demand for the high end of the market will continue going strong for the foreseeable future, however it will probably grow at a less frantic pace and with a slowdown of property price increases".
About Diana Morales Properties | Knight Frank
Diana Morales has worked in Marbella's prime real estate sector since 1978, making Diana Morales Properties one of the most established agencies on the Costa del Sol and a leader in the luxury real estate market. Its national and international reputation as a boutique agency has grown ever since, and having represented Sotheby's and Christie's in the past, it is currently the exclusive partner for Knight Frank in the Marbella area. An alliance that has allowed them to maintain solid ties with both clients and professionals in the luxury segment.
Knight Frank LLP is the leading independent global property consultancy, headquartered in London and founded over 125 years ago.
Diana Morales Properties | Knight Frank combines in-depth knowledge of the local market with an international presence in 384 offices in 51 countries.
MN Comunicación has been responsable for the publication and coordination of this press release.