With an average occupancy rate of 90% during the summer, the recently inaugurated Club Med Magna Marbella is already a success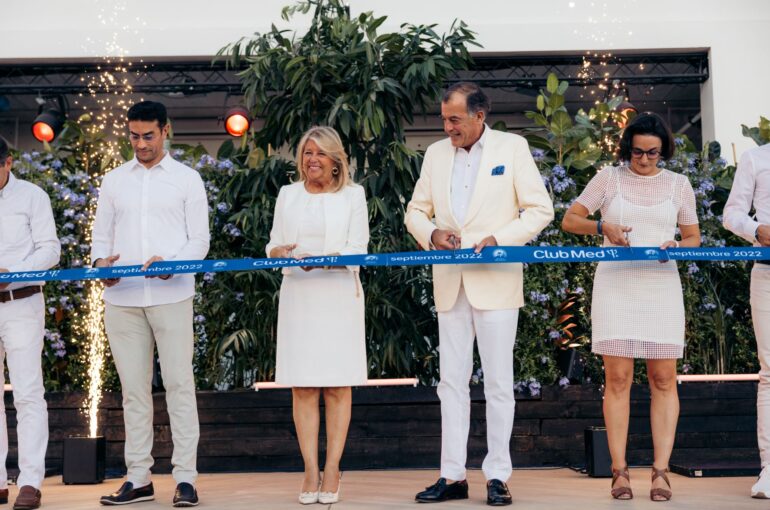 With an average occupancy rate of 90% during the summer, the recently inaugurated Club Med Magna Marbella is already a success.
The next months already reach 80% average occupancy until the end of the year 2022.
Marbella, September 9th, 2022 – More than 300 guests from many countries around the world gathered at the inauguration event of Club Med Magna Marbella yesterday evening, September 9th. The event was attended by the Mayor of Marbella, Ángeles Muñoz, as well as the French Ambassador to Spain, Jean Michel Casa, and other authorities. "The continuous increase in our bookings confirms the appeal of Club Med and the attractiveness of Marbella for our clients, and we are committed to contributing to the development of tourism in this beautiful region," says Henri Giscard d'Estaing, President of Club Med.
Club Med and Spain have a strong emotional link since the first day of its creation, in 1950 when the concept was born in Alcudia, Balearic Islands. The return to Spain therefore carries emotional weight, as the country is undoubtedly etched in Club Med's history.
"The region of Andalusia is recovering from the years of crisis and I am glad that with the opening of Club Med Magna Marbella we can contribute to the growth of the region. Our culture, our hospitality and our food are incredible and we are delighted to share them with local and international tourists" says Jihad Megharief, President of Magna Hotels & Resorts, the group that owns the hotel.
After 2 years of crisis, clients from Spain, Italy, France, Belgium, England, Holland have decided that it was time to travel again and have been seduced by the tranquility, premium services, all-inclusive offer and the conviviality that Club Med offers. Speaking of the Spanish market in particular, "we are expected to increase by 162% our turnover in the first half of 2023 compared to the same period last year" says Rabeea Ansari, General Manager for Southern Europe and Emerging Markets. "We capture on average 64% of new customers in Spain and we have observed that once they are hooked on the Club Med product and offer, they become loyal" complements Ansari.
The Resort
Located in the Spanish region of Andalusia, at the foot of the Sierra Blanca, Club Med's new 4 trident (4 star) family resort sprawls over 14 hectares of colorful gardens and terraces. Overlooking the Mediterranean Sea and within walking distance of the bustling city of Marbella, the resort is an unparalleled oasis of unspoiled greenery and lush flora.
Tradition with a touch of modernity is a theme that shows throughout the architecture and design of the complex. The property was designed with an indoor-outdoor concept that combines with vibrant décor inspired by the art, culture and nature of Marbella. The variety within the 485 rooms is ideal for every type of traveler, from families and couples to solo tourists and large groups. Each of the Deluxe, Superior and Family suites exudes a playful ambiance inspired by the region and surrounding landscape. The resort's two restaurants and three bars offer unlimited culinary experiences, carefully selected to showcase the region's local food and drink. The main restaurant "Sueños" is located at the heart of the resort, while the "Tierra Gourmet Lounge" welcomes guests throughout the day with a lively bar, wine cellar and gourmet snack bar ideal for Spanish wine tastings, happy hour, live music and tapas.
As part of Club Med's ongoing commitment to social responsibility, the resort has enabled the creation of more than 300 direct jobs, more than half of which have been filled by local hiring, as well as 140 indirect local jobs. Following its opening, Magna Marbella aims to obtain Green Globe certification for a sustainable hotel operation. As part of the brand's "Happy to Care" program, nearly 95% of Club Med resorts have obtained this green certification, which is renewed annually. In line with that commitment, the resort is also equipped with solar panels that will supply the energy needed to heat water, as well as a rainwater collection and treatment system that will be used to irrigate the gardens.
An additional attraction for the local population is the Day Pass, which allows guests in the area to enjoy all that Club Med Magna Marbella Resort has to offer without staying overnight with an all-inclusive premium day pass. With the acquisition of this option, those interested have the use included to its three bars and two buffet restaurants, as well as its a la carte restaurant within the establishment. In addition, they can enjoy its five indoor and outdoor pools (including the Zen pool), sun loungers, gym with fitness and yoga classes, tennis and paddle tennis courts with equipment included, archery, mini-golf, flying trapeze and live shows and music.
Activities
A stay at Club Med Magna Marbella includes more than 25 sports and activities, such as Zen yoga, aerial fitness, golf, flying trapeze, archery, beach volleyball and paddle tennis (indigenous to Marbella). Guests can also take a dip in one of five pools, including an indoor freshwater pool, the main lagoon pool, an adults-only Zen pool, a dedicated children's pool for kids' clubs, and a water park area for families. For those looking to relax, the resort's wellness area includes a Club Med Spa by CINQ MONDES with a steam room, 14 treatment rooms and an exclusive indoor/outdoor relaxation room for added privacy.
While adults enjoy wellness experiences, children can write their own vacation stories at Club Med's award-winning kids' clubs, which offer a range of customized activities for children and teens ages 4 months to 17 years. Families can also participate in the Club Med Amazing Family program, a fun-filled weekly activity program for families to bond and create lifelong memories.
Among the resort's plethora of family activities are "must-do experiences," which include paddle tennis tournaments, a stroll through nearby Pueblos Blancos, an Andalusian garden party with unlimited sangria, tapas and wine, and spending the day in the Family Fun Zone, which features thrilling waterslides, a variety of water games, a miniature golf course and a zip line.
Destination and exploration
Andalusia, often referred to as "the garden of Europe," promises varied landscapes along with cultural and historical discoveries. Conveniently located near Spain's southern coast, Club Med Magna Marbella is just a 20-minute walk from the sandy beaches of the Mediterranean and Marbella's city center. It is also within an hour's drive of Gibraltar, Ronda and Malaga, making it the ideal base for exploring the region's rich Arab-Andalusian history and natural wonders.
Excursions to the Doäana Natural Park and the Caminito del Rey, as well as 4×4 tours of the Sierra de la Nieves and visits to local villages, are the best ways to explore the natural beauty and rich heritage of southern Spain.
Full details for reservations and for the Day Pass:
– website: www.clubmed.es
– phone number: 900 60 30 30