Press Conference for the Fundación Andrés Olivares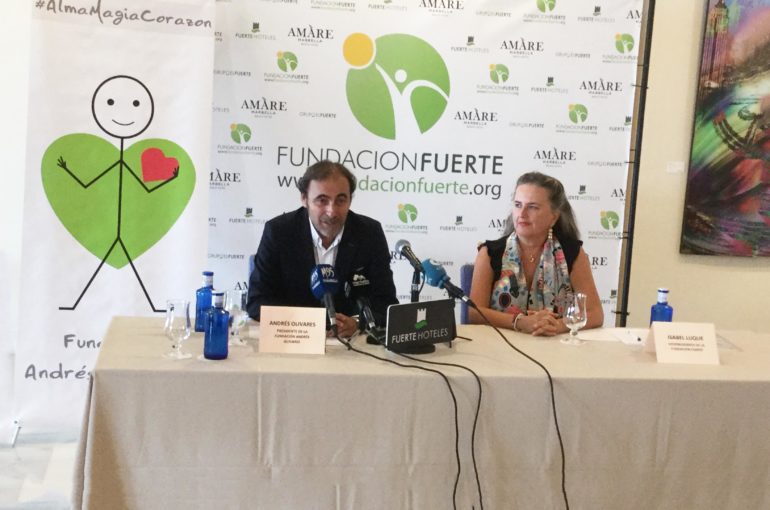 The Fundación Andrés Olivares celebrates its annual charity dinner in Marbella for the second year running
Marbella, September 6, 2019 – This morning in the Salon Ensenada of the Hotel El Fuerte, a press conference took place announcing a charity dinner on behalf of the Fundación Andrés Olivares. Andrés Olivares, the President of the Fundación Andrés Olivares, and Isabel Luque, the Vice President of the Fundación Fuerte both spoke at the conference.
Andrés Olivares commented that this is the second year in which the dinner has been organised in Marbella and also that the foundation is currently aiding 432 families, 42 of which are based in Marbella. He also wanted to highlight the importance of educating the population about these chronic diseases and that they have the foundation in Málaga, which is there to take care of all of those in need. This year the Fundación Fuerte, whose representative Isabel Luque, mentioned that they are giving economic and organisational support to the Fundación Andrés Olivares; they are helping with the funding of the cocktail evening and providing a photographer for the dinner among other things. Both Andrés and Isabel want to thank those present today and to all those who are helping with the function.
The event will be held on the 27th of September at 9:00pm in the restaurant Dantonelas Beach Club Guadalmina and will be a cocktail dinner. During which, guests will be treated to a concert by the flamenco group Los Piratas. A ticket to the charity dinner costs €50 and tickets can be bought by writing to marbella@fundacionandresolivares.com. For those who are unable to attend but who would like to make a donation, they can do so by making a deposit in La Caixa Nº ES66 2100 2107 5802 0071 6505. All proceeds from the dinner will be donated to ´Estamos a tu Lado´ (we are at your side), a new project that has just launched, together with the Málaga Hospital Materno Infantil, to attend to the needs of paediatric patients suffering from complex chronic diseases.
About Fundación Andrés Olivares:27th
Fundación Andrés Olivares works to improve the lives of children and adolescents who are affected by cancer and other chronic illnesses, as well as giving the necessary support to their families through a well-developed assistance program, that is offered by professionals and filled with compassion. A fully integrated support system is extended to families, from emotional support through to any type of social compensation that they may need.
https://www.fundacionandresolivares.org/
About Fundación Fuerte:
Fundación Fuerte is a charity whose base in Marbella aids in directing the charitable activities of the El Fuerte Group. Its primary focus is helping people at risk from social exclusion and organising cultural events and campaigns for environmental awareness. http://www.fundacionfuerte.org/   adminfundacion@fundacionfuerte.org
MNCommunication organised the conference and invited the press along.