Centro Plaza presents its fifth annual Charity sports day in favour of the Marbella Red Cross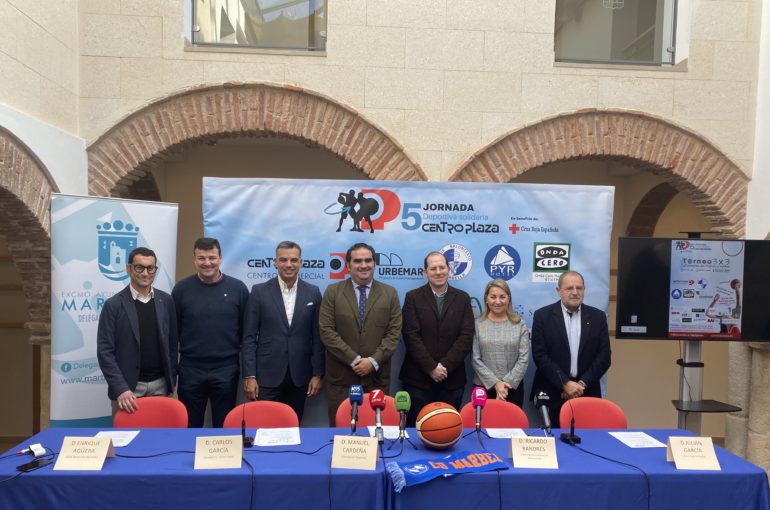 Centro Plaza presents its fifth annual Charity sports day in favour of the Marbella Red Cross
The press conference took place this morning in the Hospitalillo 
Marbella, 8 of January 2020_This morning the official presentation took place for the Fifth annual charity sports day organised by Centro Plaza in favour of the Marbella Red Cross.  For sports lovers of all ages this event is not to be missed, activities ranging from a 3×3 tournament to a doubles and triples.
This was highlighted during this morning's press conference hosted by Manuel Cardeña (Councillor for Sport), Julián García (Red Cross Marbella), Enrique Agüera (Basketball Club Marbella), Ricardo Bandrés (Andalucian Basketball) and Carlos García Perujo (Director CC. Centro Plaza). 
This initiative is in response to the political policy held by Centro Plaza with regards to Social and Corporate Responsibility, and is something that has taken place now for years and was one of the reasons why Centro Plaza was given an award at the Conference for Andalucian Businesses in the IX RSE Awards 2019. 
 The tournament is being held on Sunday the 12th of January, from 10:00am until 2:00pm in the outdoor parking of Centro Plaza Commercial Centre (Av. Manolete, 1. Nueva Andalucía) there will be around 300 participants in eight different categories (Adapted mixed, Baby basket mixed, Benjamin, Alevin, Infantil, Cadet, Junior and Senior feminine and masculine). As the Councillor for Sport, Manuel Cardeña said: "We must not forget that the 3×3 Tournament is now a recognised Olympic sport, which is becoming more and more popular due to its reduced playing area which makes it much more accessible to all people."
Entries can be made until the 10th of January online or in person at the Marbella Basketball Club from 4:30 till 6:00 pm.  Furthermore, last minute entries can be made on the day from 9:00am to 10:00am in a special marquis that will be next to the entrance. Entries cost 3euros, and 100% of the money has been designated to the Marbella Red Cross, specifically "for the emergency and first aid department," stated Julián García this morning. 
With regards to the prizes, there will be gold, silver and bronze medals for the teams finishing in those respective positions, for sex and for category, gold, silver and bronze for the winners of the doubles and triples as well as a weekend for two in the Hotel Pyr Banus which consist of two nights bed and breakfast plus parking.  At the end of the day a raffle will be held with various prizes that have all been donated by the various collaborators of the event 
Day and Time: Sunday 12 January, 10:00am
Place: Outside parking Centro Comercial Centro Plaza (Av. Manolete, 1. Nueva Andalucía).
Inscriptions: https://centroplaza.es/evento/
Kinvara Vaughan
Email: comunicacion@mncomunicacion.com
Mobile: 626 681 308