The Italian fashion brand Peserico opens its first store in Spain, in Marbella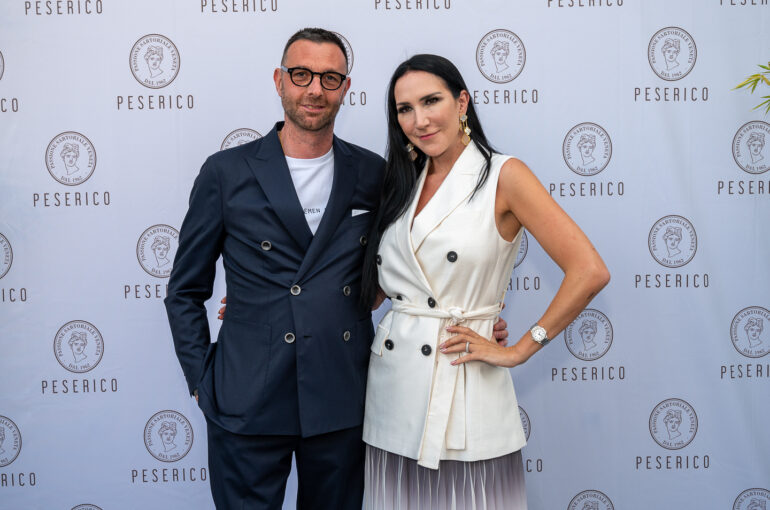 The Italian fashion brand Peserico opens its first store in Spain, in Marbella
The new establishment, located in Puerto Banús, is more than eighty square metres in size
With its opening, the company has contributed to the creation of six new jobs
Marbella July 1, 2022 – The Italian brand Peserico held an inauguration party yesterday afternoon to announce the opening of its first store in Spain, which is located in the exclusive port of Puerto Banús in Marbella. They have chosen this prestigious location due to it being "one of the preferred destinations for international tourism" highlighting that the area of Malaga is visited by an "elite and refined tourist who is in perfect harmony with our brand".
The event was attended by Riccardo Peruffo, CEO of Peserico, and Laura de Arce, Director General of Tourism of the Marbella Town Hall, on behalf of the municipality. In addition, it saw the attendance of a hundred top-level guests, entrepreneurs, and senior executives from the Marbella sphere. Also to note was the presence of influencers, namely Debbie Wingham, Viola Push and Sofía Marbella.
An opening that is in line with the firm's commitment to destinations where elite tourism predominates, such as its stores in Forte dei Marmi and Venice, Miami, Palm Beach and Naples in Florida, East Hampton in NY and Newport Beach in California.
The store, which opened its doors in May 2022, has led to the creation of six new local jobs and the company is also considering the expansion of its existing range of more than fourteen mono-brands in the world. Seven of them are located in Italy, while there are more than thirty other stores distributed across the United States, China, Japan, Korea, Germany, Russia and Ukraine.
The new establishment, located in the western side of the port, has eighty square metres distributed across a spacious and bright floor plan. Inside the store, customers can find "collections which use high quality fabrics and maintain a keen attention to detail".
The first Peserico shop in Spain is for the firm "a very important step in communicating and spreading the image and prestige of the brand" as well as "internationally expressing the values that represent it".
For his part, Riccardo Peruffo, CEO of Peserico, said that "we are excited about the opening of our new store in Marbella. We have a loyal customer base in Spain, and it is an honour to bring this new store to the area.
We know our customers will have an amazing shopping experience and we look forward to welcoming them".
Celebrities from the Italian scene such as Francesca Cavallin, Flora Dalle Vacche, Chiara Maci, Flavia Arditi, Francesca Valtorta and Ellen Hidding, often wear their clothing, which further demonstrates the class and elegance of Peserico.
It should be noted that the firm is especially known for its unique designs, in addition to its high-quality accessories for women and men.
The Creative Director of Peserico, Paola Gonella, also stresses that the collections are created for customers looking for a style "that goes beyond seasonal trends and is committed to versatile, high-quality garments that are characterised by simplicity and elegance".
In addition to the store in Puerto Banús, Peserico is also considering the possibility of opening new stores in "the main cities" in Spain and elicited that they are already present in our country through more than forty multi-brand establishments.
These new beginnings in Spain will be joined by other future international openings being planned, four of which will be in the United States and one in Berlin.
Finally, Peserico is also aware of the need to contribute to sustainability and is committed to production of their clothing being made entirely in Italy with the aim to "revaluate the territory, provide local jobs and to reduce travel costs, logistics and CO2 emissions".