REWIRE wins the Global Blockchain Challenge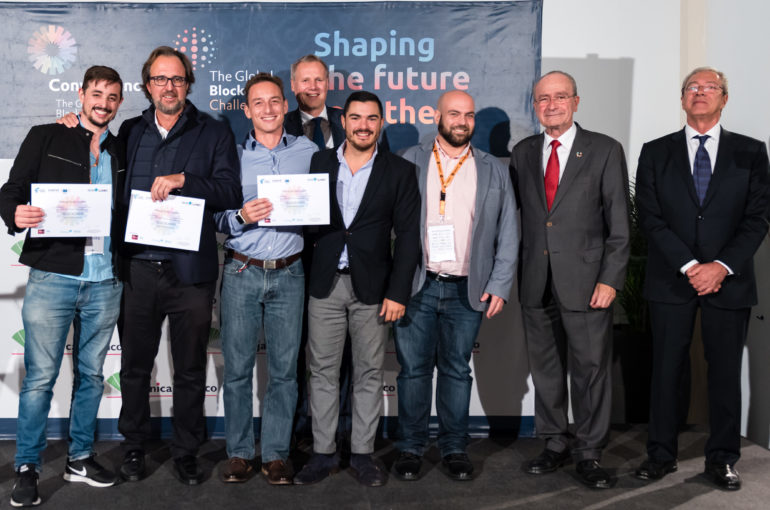 Team from Malaga wins the Global Blockchain Challenge with a platform to promote vaccination in underdeveloped countries
Rewire Social won the award for the best scalable blockchain project during the Global Blockchain Convergence congress held in Malaga
The competition identifies start-ups that fit the 17 UN objectives for sustainable development (2030 agenda)
Marbella, 18th November – Gamification and blockchain technology come together in Rewire´s project that has won them the Best Scalable Solution Award at the most recent Global Blockchain Challenge. The team from Malaga, led by Daniel Santos and Vicente Ortiz, presented a digital platform aimed at improving vaccination rates in underdeveloped countries through a reward system for doctors and patients that will, consequently, improve the security and transparency of records. The panel also recognised that this initiative is applicable to numerous areas beyond health, such as; education, gender equality and the reduction of discrimination, all of which are included in the 17 UN objectives for sustainable development (2030 agenda).
The Rewire team in charge of developing this application was formed by Simone Brighina, from the project ´Motoblockchain´ S.L, Enrique Serrano of Novoshore and José Luis Molina, lawyer at Vicente Ortiz Abogados, thus fulfilling the requirement of a team that meets the legal, economic and technological profile of the various initiatives presented with a view to their launch in the short or medium term. In addition, Francisco Gutiérrez, CEO and CTO at Distributed Ledger Technologies S.L, Carlos Callejo, CEO at Block Impulse, Raides Rodríguez and Miguel Angel Plaza Imbroda of Eunoia Agency all participated as collaborators.
´Inspired by the work of the Bill & Melinda Gates Foundation, I realised that there are three key issues to changing the world: energy, sewage control and vaccination, ´ says Vicente Ortiz, ´it is proven that a population with good health transforms into a wealthy one.´ From there the idea for the project arose, and embodied the platform Maat. Common practice, Ortiz explains, is that vaccines arrive in the country or the region of destination, but not all of them get used. That's where gamification comes in, through a reward system with tokens or points, doctors will be motivated to administer more vaccines and families will be encouraged to get them.
The Maat platform, Ortiz points out, is simple and does not involve intermediate stages, which is only possible thanks precisely to this blockchain technology that, furthermore, solves the problems of coverage and networks that exist in certain countries of the Third World. ´Although there are no computers, everyone has a mobile phone, ´ he says. The system works through a kind of Wallet application in the terminal, where as soon as a patient goes to a doctor for immunisation or as soon as the vaccine is injected the agreed tokens are transferred. The user can then store them or use an app to exchange them for traditional currency. And all this happens quickly and automatically, without the request of the user.
´The need of a third party or a person to grant the aid is avoided, and thus so is any doubt or uncertainty´ he says. On this account, the possibility of human error is significantly reduced. Blockchain technology, which is more difficult to hack, ensures the security and cohesion of data records, and also improves their transparency.
For his part, Daniel Santos stresses that the advantage of this platform is it´s applicability to other areas, hence the scalability that has been acknowledged by the Global Challenge. After surpassing a further twenty teams, many of them Spanish, the Rewire Team has received a ticket to the European Start-Ups Programme, valued at 10,000 euros, which will enable them to go to Brussels and put the platform into motion. Besides that, Rewire will have the opportunity to apply to the Horizon 2020 Programme in order to obtain additional funding for the project, which has already captured the interest of various non-governmental, humanitarian and social organisations.
The Global Blockchain Challenge is an innovation scheme aimed at developers, regulators, academics and entrepreneurs with the aim of offering technology solutions based on the blockchain system and adapted to each of the Sustainable Development Objectives (SDO) of the UN 2030 Agenda. Each of the teams must assemble their project in just 10 hours, from the technological base to its possible commercialisation, and present it to a rigorous panel of judges in just 3 minutes. The contest coincided with the first Global Congress of Blockchain Convergence 2019, an event organised in conjunction with the European Commission, Inatba and Alastria and held between 11th and 13th of November in Malaga with the presence of more than 1,500 professionals.
What is blockchain technology?
Blockchain is a technology that allows data transfer with a very sophisticated and secure encoding. It functions like a gigantic book of accounting vouchers for a company, where a series of transactions are collected digitally. These transferals are stored on separate nodes that register and validate them with no mutual reliance. Once entered, the information cannot be deleted; only new records can be added, but it will not be legitimised unless the majority of nodes agree to do so. This formula allows for greater security against hackers, and preserves information in the case of a network crash, providing at least one of the nodes/computers is working.
About REWIRE:
Rewire.com is a 100% digital NEO Social Bank based on a mobile application that will allow its customers to open accounts in Euros, Dollars, Pounds or even Bitcoin, make and receive payments with debit/credit cards, invest in start-ups and real estate or access immediate loans with just one click. It aims to revolutionise the banking sector by having an effect on the transparency of operations and revenues using blockchain, which is easy to operate and low cost compared to traditional banks, as well as through sharing most of its revenue to social projects or entrepreneurs. It will be available in the UK and Europe in the coming months, with an eye to the US, Latin America and Asia. Its founder and CEO is Daniel Santos Corcoles or ´Mr Santos´, well-known YouTube influencer and serial entrepreneur, creator of several projects such as woonkly.com, a decentralised marketing platform based on blockchain.
About Vicente Ortiz Abogados:
Vicente Ortiz is an expert in blockchain, crypto currencies and STOs. Investor/business angel for different companies. Delegate in Spain of the largest network of blockchain and of real estate www.fibree.org worldwide. Member of the Inatba working groups and partner of Rewire. Professor at different universities and business schools. He currently advises several US-based investment funds specialising in the acquisition of companies in Europe.
This press release was written by the Marie-Noëlle Comunicación team.