The Man in Black launched his exhibition in Marbella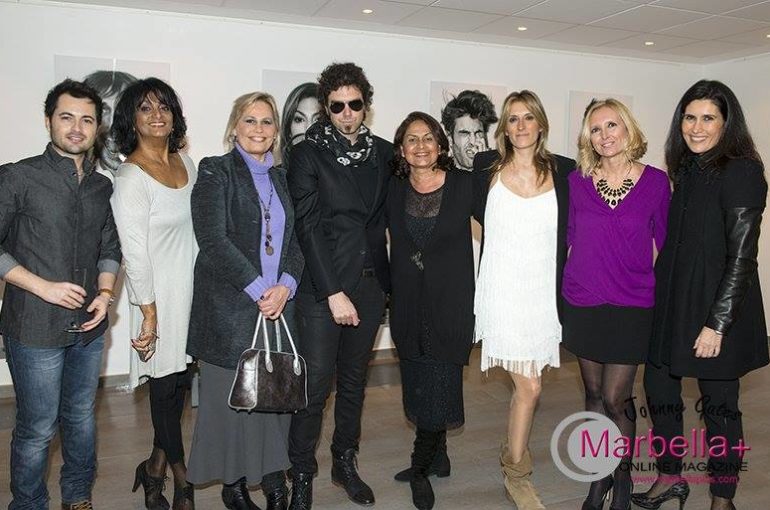 The caring side of the Man in Black in Marbella. Yesterday he presented his photographic exhibition "The Journal of Pablo Ibáñez" where the profits are being given to Juegaterapia Foundation.
Marbella, January 18th 2014: Pablo Ibáñez, better known as the Man in Black from his role in the television program El Hormiguero, presented a collection of his photographs with characters as unique as Mel Gibson, Justin Biber, Kyle Minogue and Will Smith in the Kasser Rassu Gallery-Showroom in Marbella.
It is a collection of funny and unique photos which form "The Journal of Pablo Ibáñez". The author wanted to publicise and sell the photos with the goal of helping the cause supported by the Juegaterapia Foundation, an organisation he represents as Honorary President.
The photographs, which will remain on display until the 4th of February, are sold for 850€ each. All the profits will go to Juegaterapia, whose main function is to help children who have to suffer a process of long-term hospitalisation. It's main activity is donating video game consoles to hospitals throughout Spain and especially to children with cancer, with the motto: "Chemo flies by when you're playing".
The other major project is the construction of Juegaterapia gardens in hospitals for all hospitalised children, "El Jardín de mi Hospi". The first, was 700 m2 on the roof of La Paz Hospital in Madrid, it has been in use since June last year. The building of the next garden is due to start soon, on the roof of the Hospital 12 de Octubre in Madrid and will open in spring this year.
Pablo Ibáñez Pérez is a versatile character who is dedicated, along with his team of scientists to developing and elaborating the exaggerated sections of Science and Art in El Hormiguero. Thanks to his initiative, young and old people gather in front of the television every night to watch funny experiments in which almost always include the VIP guests on the program.
His great popularity and wide acceptance among the general public of his activities in the programme have allowed Pablo Ibañez to show his solidarity and his more human side, not of just himself, but also the characters portrayed in his photographs.
Note: The hall will be open until the 4th of February, Tuesday to Thursday from 11am to 1pm and in evenings by appointment by calling 650 463 447 (Shahed Kavousi).