Sholeh Abghari Art Gallery Opening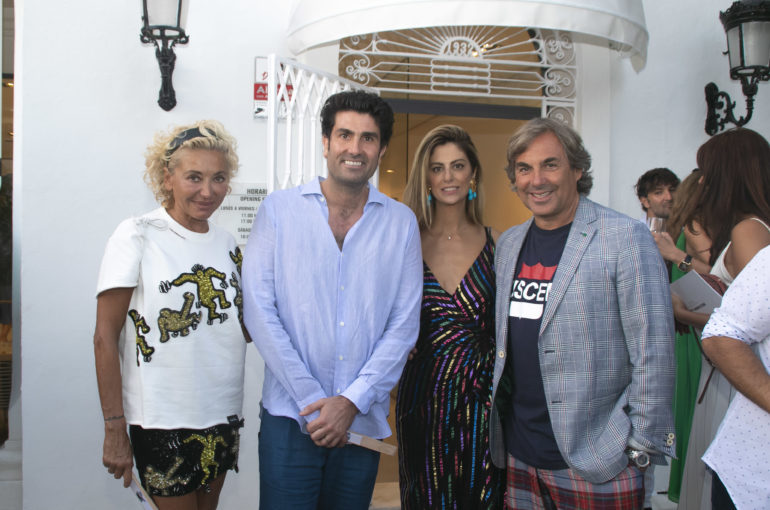 Sholeh Abghari Art Gallery opened its doors in Marbella last night, presenting the IRAN CONTEMPORARY exhibition, which will run from 30th July until 30th September. This exhibition includes 14 artworks from 7 emerging, and established, Iranian artists who have lived in Iran over 6 different decades.
In each work, through manipulating traditional techniques belonging to Iranian art, the artist creates their own form of contemporary art. These pieces were created with the influences of: Persian poetry, Iranian/Islamic architecture, Iran's landscapes and calligraphy. The exhibition contains different types of medium and materials such as steel, fiberglass, gold leaf, oil and acrylic paint colour.
Iran's art culture reflects a 5,000 year old civilization that has been shaped by diversity, and has resulted in various art forms; paintings, miniatures, woven rugs, pottery, ceramics, poetry, music and calligraphy, to name a few.
Amongst the special pieces, the GOD EYE artwork represents the highlight of the exhibition, a triptych work by 39 year old artist Shahriar Ahmadi, who was present when the gallery opened its doors for the first time yesterday. Through the influence of abstract expressionism, he created a form of art that is purely formatic and conveys poetic concepts. He spontaneously uses a variety of colour pallets and repeatedly paints layers of colour on top of the other. The texture of the painting is progressively shaped to bring the figures on the canvases to the limits of abstraction and exaggeration. In this painting, the artist describes the passage of the human from the material world to the outer and beyond.  The three frames represent the three worlds of transition, before, during and after the human's inner world becomes united with the universe. Choosing the colour blue, the artist represents the sky.
Marie-Noëlle Communication was in charge of public relations and planned the entire event, which was attended by over 250 of Marbella's high society, as well as important guests from Art Marbella. Among those present were the iconic Hubertus Hohenlohe and his wife Simona Gandolfi, who both appreciated the magnificent artwork on display while enjoying the beautiful sounds of a harpist. Local Malaga produced wines were served to the guests throughout the evening.
The aim of the event was to encourage the people of the Costa del Sol to learn more about Iranian art and culture during this difficult and challenging period in Iranian history. This exhibition wishes to promote Iranian art among Western collectors, while becoming a cultural centre for Persian art.