Santa Claus and Christmas visit Puerto Banús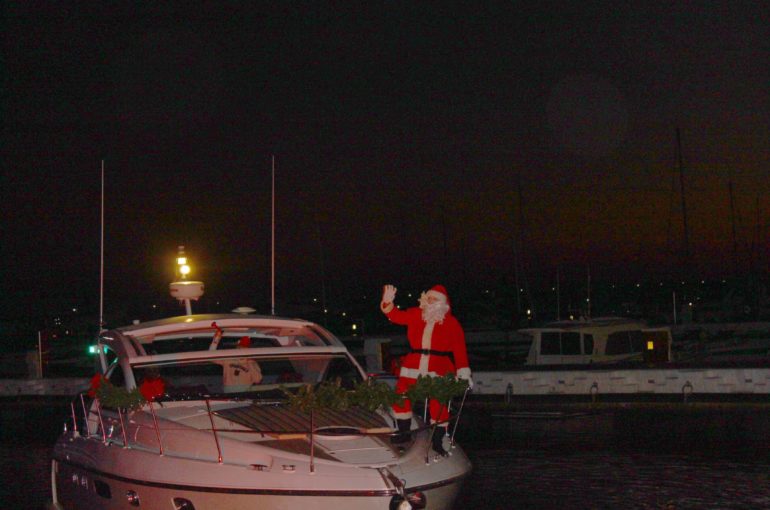 Merry Christmas and Happy New Year. Puerto Banús shopkeepers toast with their customers for a Happy Christmas and New Year during an evening filled with surprises.
Marbella, 23 December 2011. More than fifty shopkeepers in Puerto Banús shared with all the visitors of the port area their wishes for a Happy Christmas and a New Year full of good news.
A message pregnant with good intentions which was reflected in a especial staged Christmas card on the occasion of Santa Claus visit.
The arrival of such a distinguished visitor was celebrated in style. The Nuestra Señora de la Encarnación Choir sang popular carols and the dance group Danzart from the Laude College consisting of elves and characters from musical movies, warmed the atmosphere of the large audience.
That was the introduction to the awaited appearance of Santa Claus. On board of a ship he normally use to distribute gifts, he show off in front of the expectant gaze of the children.
His presence delighted the smallest ones as well as the elders. Santa Claus brought three big baskets full of exclusive products from the more than fifty shopkeepers that boosted this initiative.
The gifts draw was the crowning of this project designed by a entrepreneurship platform in order to enhance the commercial activity of the port area. For the first time, more than fifty commercial brands came together to develop joint plans.
The Christmas lighting reinforcement , special offers and free tasting rounded off the schedule of this Christmas campaign.