Professor Karen B. Avraham of Tel Aviv University highlights the benefits of applied medical research in a dinner organised by TAUSF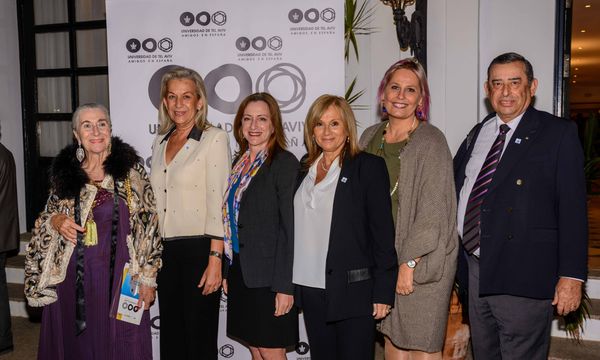 The profits obtained during this event will be allocated to a scholarship fund so that Spanish students can carry out their studies at Tel Aviv University
Marbella, 10th November 2017 – Tel Aviv University Spanish Friends celebrated yesterday the dinner-talk entitled: "Tel Aviv University – the Spearhead in Medical Research". The event was organised by MN Comunicación who also invited and coordinated the guest list and managed the communication with the media. An evening during which Professor Karen B. Avraham, Vice Dean of the Sackler Faculty of Medicine, revealed the main research currently being carried out in her faculty and highlighted the benefits of her work in patients.
The evening was attended by Francisca Caracuel, Deputy Mayor and Town Planning Councillor in Marbella, as well as third Vice President of the Province of Malaga and also by Rafael Cohen, Honorary Consul of Israel in Andalusia, who was able to share views about education in Spain and Israel with the Vice Dean, Professor Avraham.
More than 60 people of a dozen nationalities attended this evening during which the renowned scientist emphasised the repercussion of the discoveries that they carry out at Tel Aviv University, with potential cures for fatal illnesses such as cancer and Alzheimer's. "The use of next generation sequencing has reduced the period to sequence one genome from approximately six months to 24 hours and the cost from thousands of dollars to 500", she discussed. With this technique, explained Professor Avraham, "geneticists recommend that if any patient has their genome sequenced, they should be told if they have a change in 57 genes, as this knowledge might tell them if they are at risk for cancer, heart disease or other serious diseases that are treatable and in this way, the information could save their life".
Patricia Nahmad, Co-President of TAUSF, highlighted the critical labour of the organisation to show the excellent work that Tel Aviv University does with its researchers and students. Also, she highlighted the bilateral relationships and the exchange of knowledge between this university and Spanish universities so that all the latest generation of researchers have their work reflected in Spain.
One of the most emotional moments occurred when, during her talk, Professor Avraham explained how basic research may also have a practical function by helping to improve the lives of children who are participating in a clinical trial on mutations that cause cancer, thanks to the new generation genomic sequencing and the use of antibiotics for its treatment.
During the evening, accompanied by live guitar music, a raffle was carried out to win a flight to Tel Aviv to visit the University during the Board of Governors meeting, which will take place in May of next year. All the money raised from the raffle and cover charges will be allocated to a scholarship fund organised by TAUSF, thanks to which Spanish students or residents will be able to carry out their undergraduate or postgraduate studies at Tel Aviv University.
Tel Aviv University Spanish Friends (TAUSF), based in Marbella, has a primary objective to create links between Tel Aviv University, one of the most prestigious in the world and the most important in Israel, and Spain. It wants to extend its know-how to universities, institutions and the national panorama in general for which it organises different activities and participates in cultural, scientific, artistic and innovation meetings.