Press conference of SOUL & STARS Gala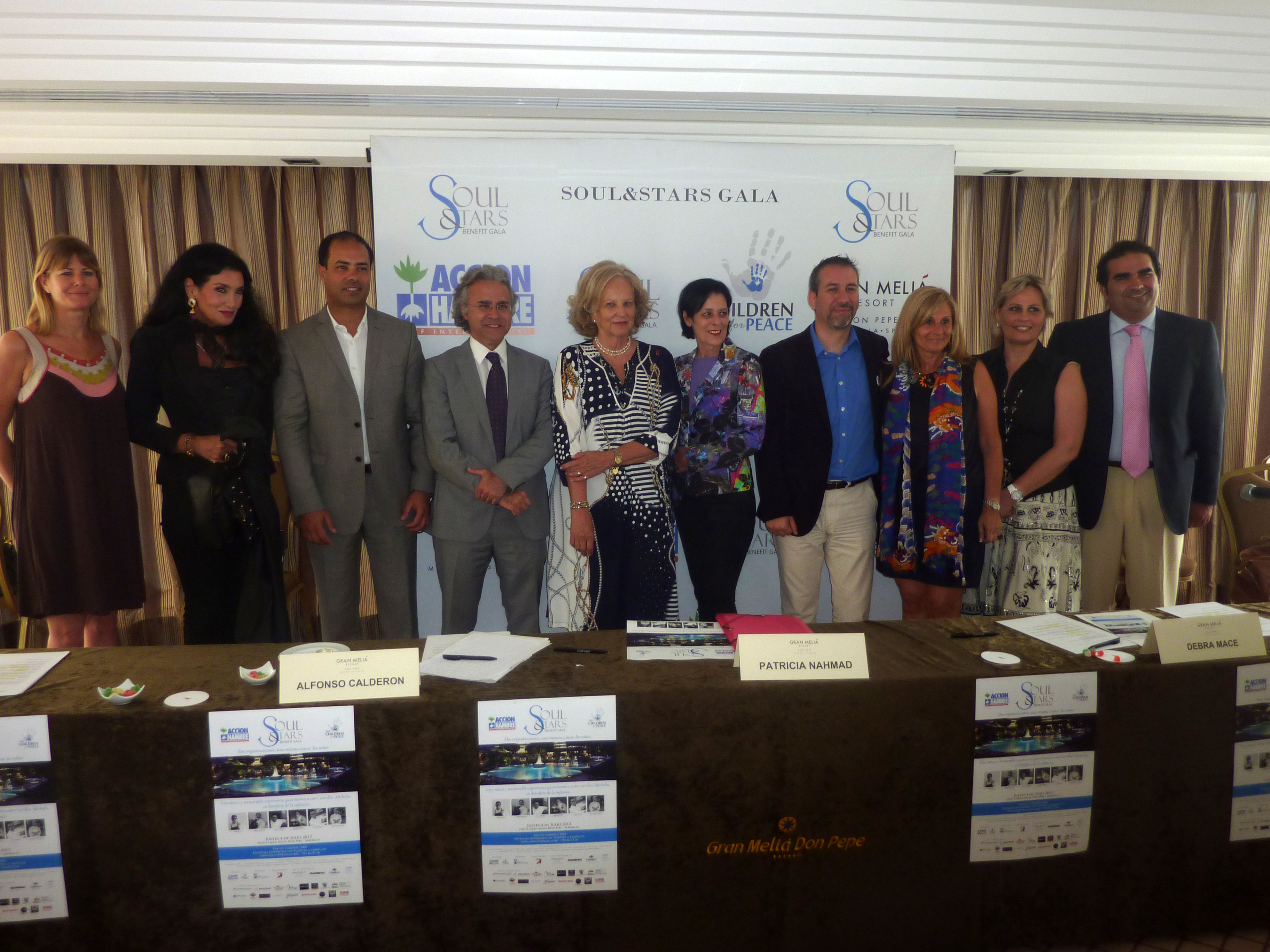 The Soul & Stars Gala, a unique event benefiting children The gala dinner will feature "Six Michelin Stars" with other great surprises.
Marbella, 25th June 2013: Today at a press conference, the foundations Action against Hunger and The Children for Peace have presented The Soul & Stars Gala, a philanthropic and gastronomic project, coordinated by both institutions, which has been made possible thanks to the commitment and generosity of six chefs with Michelin Stars including Dani García, Nacho Manzano, José Carlos García, Joaquín Felipe, Marcos Morán and Paco Morales. Other personalities from film, fashion and entertainment have also united for this initiative, taking place on 4th July at the Hotel Gran Meliá Don Pepe Marbella. In pairs, these six chefs will offer a show cooking live on stage, for each of the dishes of the night. They will be the stars of the evening, creators of an exclusive menu using only the best foods and products. It will be a unique opportunity to enjoy a dinner produced by chefs with "Six Michelin Stars". Patricia Nahmad, representative of Action against Hunger for Marbella; Alfonso Calderón, Head of Events and Campaigns for Action against Hunger; Debra Mace, President of The Children for Peace; Lamia Khashoggi, Vice-President of The Children For Peace; Princess María Luisa of Prussia, President of Concordia; Manuel Cardeñas, Social Services Delegate of Marbella Town Hall, and José Luis Hernández, Delegate of Tourism for Marbella, were all present at the press conference. Both foundations involved work to combat child malnutrition and poverty, as well as to help the most vulnerable children living in the poorest countries of the world. The Gala aims to raise funds for programmes to assist these children and to provide them with the necessary tools to fight hunger. Alfonso Calderón explained that they "intend to save 2,500 children from dying" with the proceeds raised from this initiative. Patricia Nahmad explained that the town of Marbella was chosen for its "well known spirit of solidarity, for the great reception from the people and the Town Council, and because they are sure that Marbella knows how to welcome everyone attending this event." Alfonso Calderon went on to say that the alliance with The Children for Peace "is a positive union because we have common goals: the children, and to raise as much as possible to continue to save their lives."
This Gala, besides being a philanthropic event, highlights a culinary concept as six Michelin-starred chefs have joined forces and have brought together their expertise to offer attendees a unique and exclusive menu, said Calderón, who also explained that AAH is very united with the food sector, in one way or another, since it is an emerging sector in Spain and is also very charitable. Debra Mace, President of The Children for Peace, revealed that three foundations are involved in The Soul & Stars Gala, since the local institution Concordia will also be a beneficiary of this event. "We cannot come to a city and take what we want without leaving anything in return, which is why we want to give back what we take and Concordia gives us that opportunity." Mace thanked the Town Council and the Mayoress of Marbella, for their generosity and support in all TCFP projects, and highlighted the spirit of solidarity of the Spanish people in general and in particular the people of Marbella. Manuel Cardeña thanked the two foundations for their work and for this initiative, which began five years ago, and for working with a local institution. "I hope the town will return everything that AAH, TCFP and Concordia have brought us." Whilst highlighting the spirit of solidarity of the Gala, José Luis Hernández also took the opportunity to point out the other benefits of the event, which build a good image of a town, making it generous, cosmopolitan and charitable.
For reservations: gala@soulstarsgala.org – Tel: 952863736.
Information and ticket purchase via Ticketea: www.soulstarsgala.org