Press Conference of III Marbella Luxury Weekend in FITUR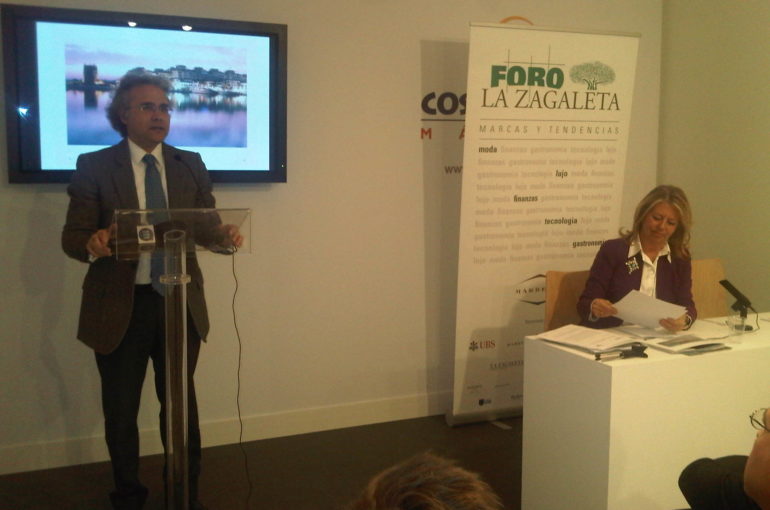 The Mayoress of Marbella Presents the III Edition of Marbella Luxury Weekend in FITUR. The II Forum of La Zagaleta "Brands and Trends" will be one of its central concepts.
MARBELLA, 30th January 2013. The third edition of Marbella Luxury Weekend, which will take place this year between 30th May and 2nd June, was presented this afternoon at the Costa del Sol stand of FITUR, Madrid.
Before a large group of business representatives such as Jerónimo Pérez Casero, (President of the Chamber of Commerce of Malaga), Javier González de Lara (President of the Confederation of Employers of Malaga), Juan José González Cid (President of CIT Marbella) and accompanied by the Princesses Beatriz of Orleans and Beatriz of Hohenlohe, Ángeles Muñoz, Mayoress of Marbella, said that MLW '13 will strengthen the city as a tourist destination of excellence.
"Quality is the sign of identity of Marbella. We will remain committed to strengthening our brand internationally with initiatives like this."On his part, the Councillor of Tourism, José Luis Hernández, said that this year the number of companies participating in the event will double, as will the media impact of the event. "This third edition is a qualitative leap; our challenge is not only producing quality but also to increase the impact of the event," said Hernández.
For four days Puerto Banús will become the global reference for luxury tourism and exclusivity. In exceptional locations such as the VIP areas, the boulevards of the port area or the various headquarters of the participating firms, hundreds of events will take place for top international brands, such as Bulgari, Cartier, Salvatore Ferragamo and Gómez&Molina Jewellers, amongst others. Design, high fashion and fine jewellery will go hand in hand with other sectors such as gastronomy, food, automobiles and sport.
As part of this initiative La Zagaleta Group presented the second annual Forum of "Brands and Trends", which will once again bring together leading global executives to analyse, through presentations and panel discussions, how to manage a brand in times of uncertainty.
"We live in a global economy and it is imperative that companies and their management teams can adapt to new patterns that are marked by on the one hand their consumers, and on the other, technological innovation. Those who do not react or react late to these trends will no longer be competitive. The Brands and Trends Forum is an excellent opportunity to create synergies and learn new business solutionswww.marie-noelle.esthat will help us to advance", revealed Jacobo Cestino, CEO of La Zagaleta, who signed a collaboration agreement with the Mayoress of Marbella during the press conference.After the participation in the previous edition of thirty entrepreneurs, most notably Vice Inditex, and executives of UBS, Bwin-PartyGaming, Meliá, Starwood Hotels International, etc.., the presence of David Sadigh, CEO of Digital LuxuryGroup, has already been confirmed for this year, as well as Jeff Frampton, Global President of Interbrand, amongst others.
La Zagaleta is integrated into a holding company whose parent company is Zagaleta Limited, based in London. The group has several sites in Madrid and Andalusia, as well as the luxurious facilities that house La Zagaleta Country Club. In 1991 Zagaleta Limited built a new urbanisation in Benahavis, Malaga, which was one of the safest and most prestigious in Europe, consisting of 900 acres and more than 200 homes whose average price is roughly €8 million.
About Marbella Luxury Weekend:
Marbella Luxury Weekend is an unprecedented event that will take place in Puerto Banús, between 30th May and 2nd June, and has been defined on the basis of quality and excellence. All participating companies will develop this initiative through exclusive events for their clients.It is the third year that the city of Marbella has committed to this initiative in order to attract tourists and thus consolidate MLW as an unmissable event for luxury tourism.