Presentation of the new Model Class S of Mercedes Benz – Ibericar Benet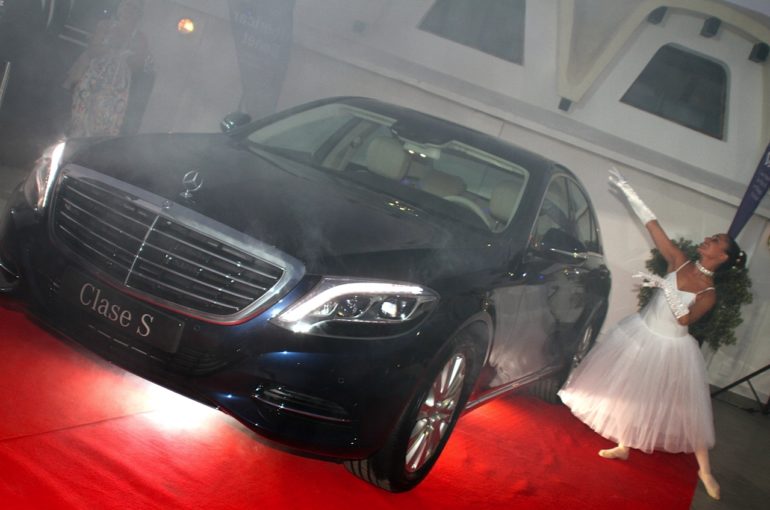 Ibericar Benet exclusively presents the new. Mercedes-Benz S-Class.
Marbella, 19th July 2013: Yesterday at the Beach Club La Cabane, Hotel Los Monteros, Ibericar Benet presented the new S-Class Mercedes-Benz. Whilst maintaining its elegant, safe and prestigious build, this impressive vehicle has been given a new look.
The presentation, accompanied by an elegant ballet performance, impressed more than 160 attendees with the innovative features of this new model of Mercedes-Benz.
The German car company has distributed a total of 15 of the S-Class models to the entire Spanish dealership network, of which Ibericar Benet has two.
The S-Class series embodies the high caliber of this brand of vehicles in the premium automotive market like no other series of Mercedes-Benz. This new generation captivated with a large number of technical revolutions, returns to take another critical step in the industry, as it has done with its security system and driver assistance, under the "Mercedes-Benz Intelligent Drive" concept.
The main strengths of the S-Class are its expressive exterior design with a modern interior but with the appearance of high quality craftsmanship. The S-Class generates a perfect environment, ensuring relaxation, enjoyment and entertainment at the highest level.
There is a superior comfort whilst driving thanks to its innovative suspension and damping systems, highlighting its significant reduction in emissions and consumption benefitting from its excellent aerodynamics and the latest technologies, such as the lighting system with LED technology.
Customers who wish to see this vehicle in person can go to Ibericar Benet in Ciudad Ibericar Málaga from today 19th July. Today and tomorrow, the Ibericar Benet team have prepared a special event for customers and stakeholders to have the opportunity to get to know the car.