Pablo Ibáñez, the Man in Black, in Kasser Rassu, Marbella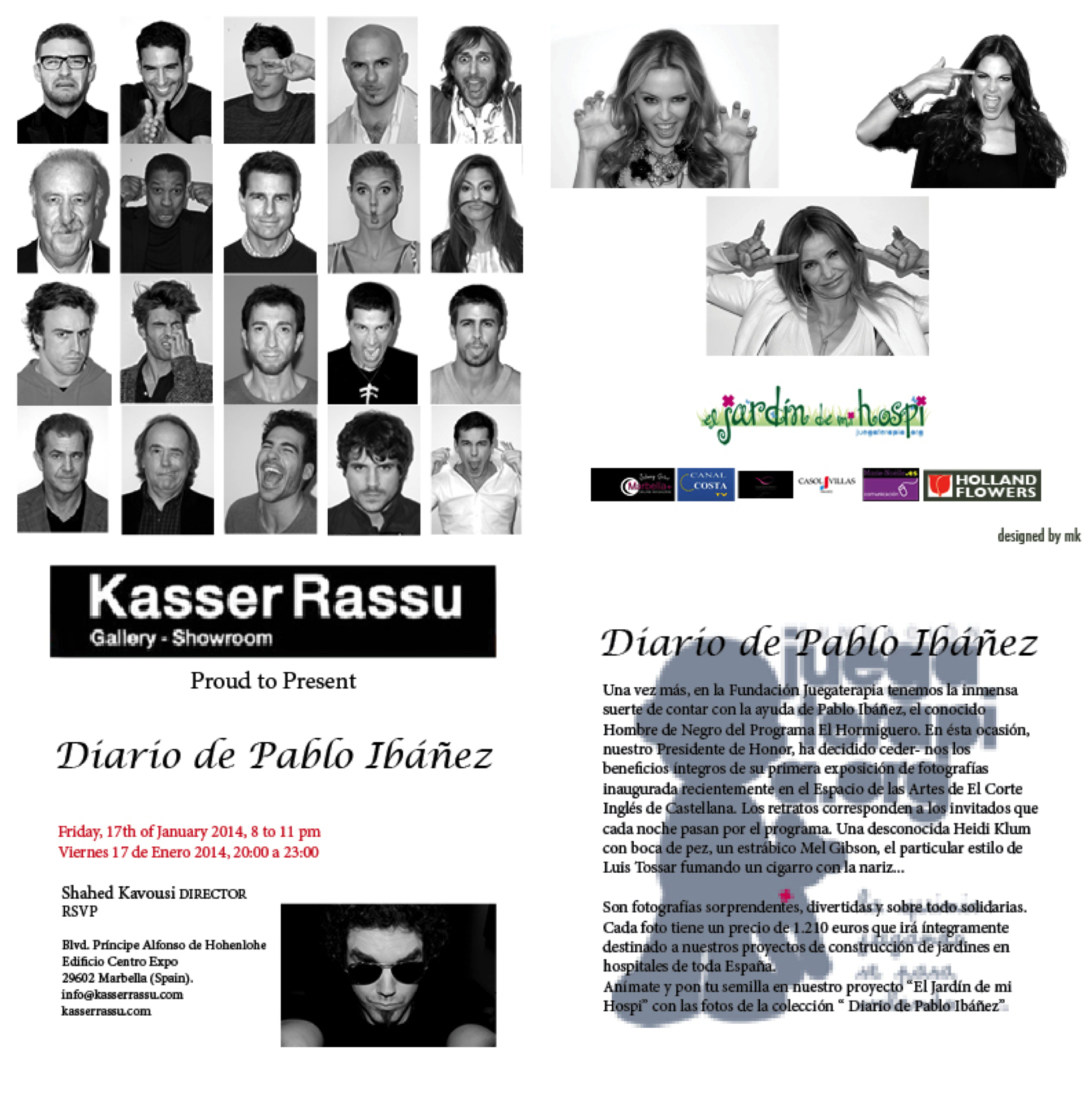 The Man in Black returns to Marbella with "The Journal of Pablo Ibáñez". The profits of the photographic exhibition are all given directly to the Juegaterapia Foundation, which helps children with cancer.
Marbella, January 13th 2014: Pablo Ibáñez, well known as the Man in Black from the television show El Hormiguero, will be presenting his personal photography exhibition next Friday, the 17th of January. It is a funny collection of portraits showing the most unknown faces as its subjects: the invited artists, national and international, who have spent night after night on the program where he works.
The Man in Black wanted to return to the Kasser Rassu Gallery-Showroom in Marbella with his collection called The Journal of Pablo Ibáñez. Here we can see international faces such as Mel Gibson, Justin Bieber, Kylie Minogue and Will Smith. As well as national stars like Jon Kortajarena, Fernando Alonso, Amaia Salamanca and Paz Vega.
The full proceeds from the sale of the photographs, with a unit value of 1,210 €, will be entirely donated to Juegaterapia Foundation. Pablo Ibáñez is the Honorary President and is dedicated to helping children who are in the process of long term hospitalisation. The main activity is to donate video game consoles to hospitals throughout Spain and especially to children with cancer, with the motto: "Chemo flies by when you're playing".
The other major project is the construction of Juegaterapia gardens in hospitals for all hospitalised children, "El Jardín de mi Hospi". The first, was 700 m2 on the roof of La Paz Hospital in Madrid, it has been in use since June last year. The building of the next garden is due to start soon, on the roof of the Hospital 12 de Octubre in Madrid and will open in spring this year.
Event: Photographic Exhibition "The Journal of Pablo Ibáñez" by the Man in Black.
Location: Kasser Rassu Gallery-Showroom. Blvd. Príncipe Alfonso de Hohenlohe. Edf. Centro Expo. Frente al Hotel Marbella Club. Marbella.
Date: February 17th 2014
Time: From 8pm until 11pm