Opening launch of Carrefour Express in Marbella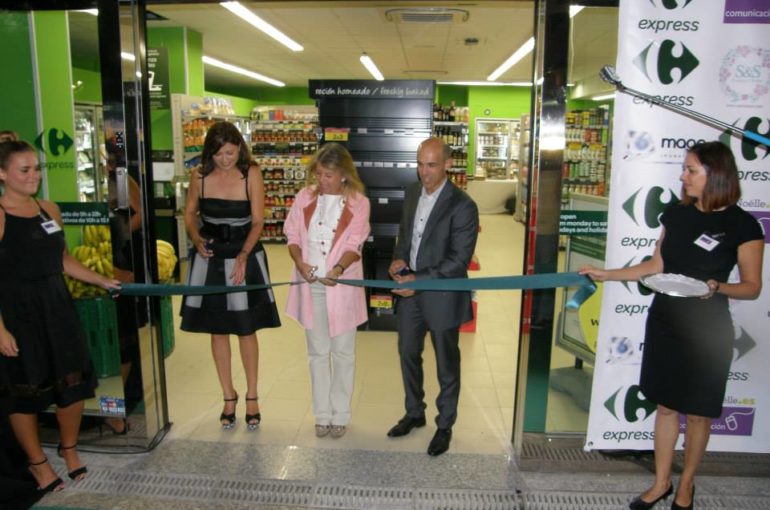 The company held an opening event yesterday before opening their doors this morning to the general public.
Marbella, Thursday the 9th of October, 2014: at nine o´clock this morning Carrefour Express opened their doors for the first time in Marbella. The business, located at number 48 of Avenida Ricardo Soriano, is the first business venture of the prestigious French firm Carrefour in the area.
The supermarket´s managers, Nekane González and Antonio Macías were there to welcome the first customers who arrived at the new premises of 215m2 where over 2,800 products can be found. Nekane stated "We are very excited about this new business venture in the center of Marbella and hope to receive a good reaction from the local community." Meanwhile, Antonio, a native of San Pedro de Alcántara whom has extensive experience as a department store manager, declared "our strengths are: paying careful attention to the customer whilst offering support and maintaining our reputation, which is essential as Carrefour express is a subsidiary of the multinational and well known chain Carrefour. "
Franchisee owners held a private cocktail reception at the store yesterday evening, which was attended by public figures as well as neighboring business´s from the local area. The ribbon cutting ceremony was attended by the Mayoress of Marbella, Ángeles Muñoz, who defined the opening as "(…) great news, especially in terms of commercially reviving Ricardo Soriano.". She also had words of praise for the owners of the premises who have generated new jobs in the area, as well as being delighted to find that the necessary administrative steps regarding the economic activity of this new business with Marbella town hall had been fluid throughout.
Support for the opening of Carrefour Express was also received by: Francisca Caracuel, vice president at the Provincial Council of Málaga, Javier García, third deputy mayor and chief of works and operational services; Remedios Bocanegra, responsible for district four (city centre), Begoña Castillo, manager of CIT Marbella. Accredited members of the media were also invited to the event as well as central Carrefour executives, such as, Juan Torres, Director of Expansion, accompanied by Fernando Esponela, Sebastián Almeida Hinchado and Sergio Díaz López, who arrived in Marbella for this special occasion.
This new Carrefour Express has already created five permanent jobs in the town, dedicated to the integral development of local actions and plans to make agreements with SMEs in the area. The store has also brought products to Marbella from a variety of foreign firms (Russian, English, French and German) that are currently difficult to obtain in Marbella. Scheduled opening and closing ours will be from 9:00 am to 10:00 pm, Monday to Saturday, and Sunday from 10:00 am to 3:00 pm. This Carrefour Express store will also offer a free home delivery service on purchases over forty euros.
Convenience stores located near to the homes or workplaces of their customers are booming as buying habits of consumers are beginning to change. After the crisis, customers are now taking home purchases more suited to their daily needs.
The Carrefour Express stores are also carefully designed to facilitate the purchases of their customers by offering the best selection of a wide variety of leaders and own brands, following the commercial policy of "Everyday Low Prices".