Marie-Noëlle Communications agency organises a business protocol course taught by Carlos Mohino, member of the Casa del Rey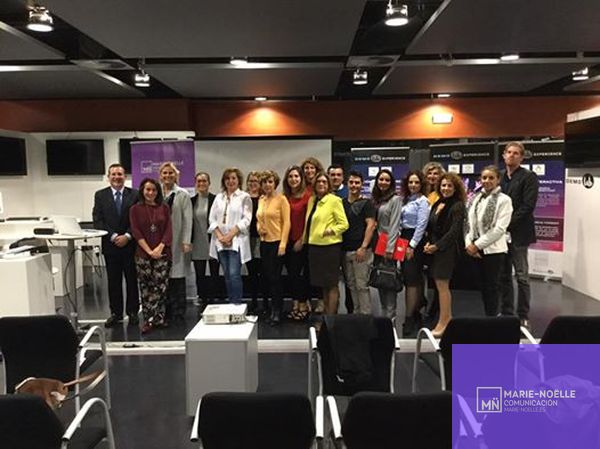 Marbella, November 11th 2016: this afternoon the auditorium of the Andalucía Lab in Marbella facilitated the 'International Business Protocol' course, which was organised by MN Comunicación and taught by Carlos Mohino Granados, who is an expert in this discipline. Mohino is a graduate of Camilo José Cela University of Madrid and has a masters' degree from the University of Granada. As well as this, he is a member of the house of S.M del Rey and a lecturer at the University of Málaga.
The programme covered important points such as the importance of protocol, social and business conduct, as well as the basic rules of etiquette applied to businesses and deals.
It serves to highlight here the special focus that has was put on the treatment of clients from other cultures and the keys to closing deals with them successfully. Facts of interest were given out to interact with other nationalities living in the Costa del Sol such as the Russians, English, Germans and Scandinavians, among others, with their different cultural characteristics. And it's the internationalisation and racial variety that exists in Marbella which means that businesses feel the need to gain knowledge of the different forms of etiquette in accordance with idiosyncrasy and culture, a reason that has led the agency to organise this course.  
More specifically, the role of women has been investigated in depth in dealing with different cultures, such as Arabic, and in making contact, as in the greeting, an aspect which varies enormously from country to country. In the case of Russians, men and women do not kiss each other in public. However, their traditional greeting is the handshake, and among friends and family they give up to three kisses. Throughout the whole course, the teaching was accompanied by enjoyable and rewarding anecdotes on the speaker's part, which was a pleasure for all the people who attended.
Some x people attended the course, which had the presence of well-known people from the city and from the media, who have praised the information that was taught. 
For Marie-Noëlle Erize, the director of the agency who organised the course, protocol is a basic discipline that should be followed by not only the high authorities but also intermediaries and the general public. Protocol is what, according to what she highlights, on many occasions the ultimate success of deals depends on. In the next few years MN Comunicación will continue organising numerous workshops with the aim of "making up for the deficiencies that currently in society", something that "new technologies can't provide".