Marbella Luxury Weekend Opening 2013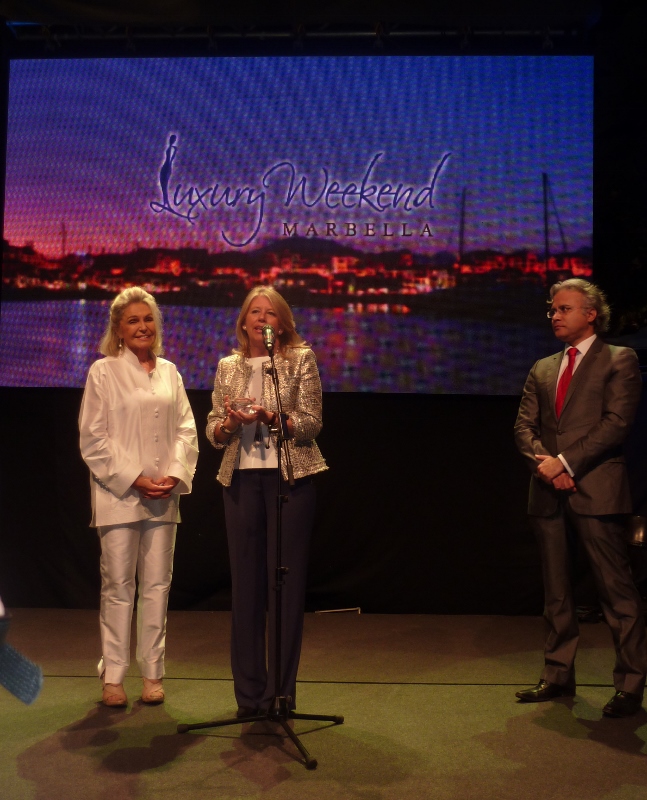 Five hundred people attended the opening of Marbella Luxury Weekend. The evening was held in a festive and sophisticated atmosphere.
Marbella, 30thMay 2013:Today the third edition of Marbella Luxury Weekend officially opened with over 550 guests.
Puerto Banús has opened its doors to the first big event of the summer season. Glamour and sophistication met at the VIP Tower Tent. Many celebrities walked down the red carpet at the first big night of the Luxury Weekend. This included the presence of Gunilla Von Bismarck and Luis Ortiz; Lamia Khashoggi and Debra Mace, Vice President and President of the organisation The Children for Peace; entrepreneurs Olivia Valere and Kristina Szekely; Evangelina Anderson and Martin Demichelis, player at Málaga Football Club; Juan José González, President of CIT Marbella, and many more.
During the event, the Spanish Association of Luxury awarded the Mayoress of Marbella, Ángeles Muñoz, the Diamond of Honour, presented by the Association's President, HRH Beatriz de Orleans, who is also the honourary chair of Marbella Luxury Weekend. "Puerto Banús is a gateway that attracts the best of fashion, motor vehicles, boats, art, glamour and from the Town Council we want to offer our support and our efforts to all firms who have contributed to this great event, that is certainly a commitment to excellence," said Muñoz.
Beatriz de Orleans pointed out that "this recognition of the Mayoress and the Town Council is an award for positioning the name of Marbella as an image of luxury worldwide".
José Luis Hernández from the Department of Tourism used the occasion to thank the participating firms for their support during Marbella Luxury Weekend and recalled that "the objective is to maintain and ensure the tourism that the town deserves, both luxury and quality tourism".
Attendees enjoyed divine catering produced by renowned two Michelin-starred chef, Dani García, who has worked selflessly in all activities surrounding this complex event. The magnificent performance of the young dancer Aitana Muñoz drew applause and cheers from the audience with her impressive flamenco show.
The opening also included different and unique musical and dance performances that enlivened the evening and highly entertained guests.
Prior to the opening, Ángeles Muñoz, proceeded to open the art exhibition, organised by Faim Art, which for four days will be located in the Tower of Puerto Banús.
This third edition has brought together more than fifty national and international firms which have all worked hard to convert Puerto Banús into the ideal enclave for this social and cultural gathering.
You can download the programme for the four days at www.marbellaluxuryweekend.com