Marbella Birthplace of the Paddle Tennis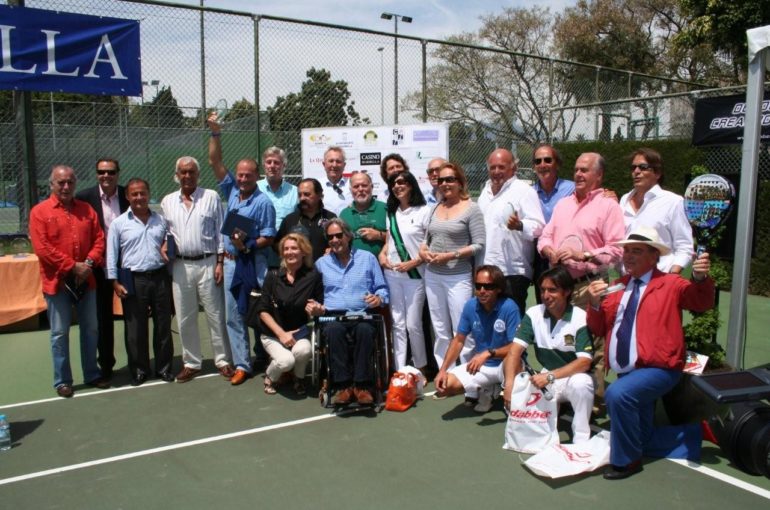 MARBELLA, BIRTHPLACE OF PADDLE TENNIS.
This event that took place in the Los Granados Racket Club in Puerto Banús (Marbella) on April 30 2009 was a tribute to the origins of paddle tennis.
Among those who attended the event, there were veteran paddle tennis players, some of them pioneers of this sport in Spain, such as Luis Ortiz, the brothers Luis and Juanjo Nieto, Óscar Horacio or Manolo Santana, as well as current top-level players, such as Carolina Navarro, Agustín Gómez Silingo, Maxi Gabriel, Gerardo Derito and Cata Tenorio.
The press conference was chaired by Marbella First Deputy Mayor, Mrs. Francisca Caracuel, the Councillors, José Luis Hernández and Ángel Mora, and the General Manager of the Los Granados Racket Club, Mr. Juanjo Nieto Alejano.
Following the presentation, several emblems were awarded as a recognition to the famous names, who contributed to making paddle tennis widely popular, among them a special tribute to Prince Alfonso de Hohenlohe, who invented paddle tennis in the year 1974.
In the course of the afternoon, several exhibition games between veteran players took place and later on current professional players had a go.
Several clinics with professionals and the general public alike took place a few days later. Finally, on Saturday, May 2 another exhibition game took place at Los Granados followed by a ceremony as a tribute to the Marbella Club Hotel, in which gardens a massive stone indicating the location of the first paddle tennis court was unveiled.