Lirone chooses Marbella to support his contemporary art and widen the ever expanding international clientele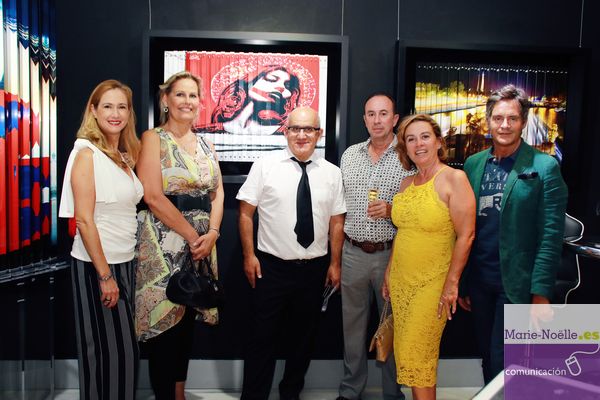 Until the End of September the Art Wanson Gallery at the Marbella Club Hotel will be displaying the work of this French artist.
Marbella, 19th August 2016: Yesterday marked the presentation of a particular collection of art by a French artist called Lirone, hosted at the ´Art Wanson Gallery´ in the Marbella Club Hotel. His artwork will be on display until the end of September and features an exhibition of his own artwork based on a concept that combines photos, paintings and original aesthetic sculptures.
Important figures from and around Marbella in the world of art and decoration gathered and were able to enjoy a few cocktails throughout the party. Attending in Lirone´s place was his manager and owner of Jeux D'images Gallery (London) David Attiach.
This is not the first time that a world renowned artist has come to this municipality to exhibit their creations and as Lirone previously stated, "Marbella is known for its contemporary art and for decades it has had a diverse demanding group of customers".
In regard to his artwork, his plastic photographs are essentially made from upscale acrylic glass, aluminium, wood and steel. "I love the mixing and contrast of these materials, while seeking a balance and harmony between them through the best possible finishing product", stated the artist. Furthermore each one of his creation has its own meaning and he describes that, "I try to bring out in the viewers a feeling of fullness that invites evasion and rest. My work is dedicated to the lovers of art and design who appreciate my artwork as if they could marvel at a beautiful piece of jewellery or a fine luxury watch". A feeling that he himself experiences when he finishes every single piece of hand crafted art.
The ´Plastic Surgeon' of photography said he is currently working on the realization of artwork onto thick acrylic glass with a 3D element in order to give life back to a photo in an innovative way. An idea that will become part of his future projects to ultimately boost his international coverage. "I am totally invested in an active approach to make my artwork more internationally recognized", concluded Lirone.
Notes
    

Lirone, born in 1964 is known as the "Plastic Surgeon" of photography. At a young age he became fervently interested in photography reaching and achieving for a purity and beauty of the vision he sees. Lirone has been a professional photographer since 1990, always looking for innovative techniques to take his photography to new heights.

   

In 1994 his career began by specialising in a particular interest in baby and child portrait photography. At the end of the 1990´s, Lirone decided to introduce his photography to the world of industry in France, where his brilliant creativity was highly acclaimed in a wide spectrum of industries; Motor Vehicles – Mercedes – Peugeot, Designer Fashion Houses – St Laurent Traiteur, Culinary Art, Perrier, Nestle, LVMH, Jewellery etc. He ultimately became a master of this particular artwork gaining distinctive recognition in all corners of the globe.

   

In 2006, Lirone developed a unique and revolutionary concept based on creating a visual image in the 3-dimensions by combining aesthetics with an original photo as well as a painting and a sculpture. Your senses become uplifted beyond a mere transformation of reality and once deeply focused on a piece of artwork, the image will continually re-arrange itself as you change your physical location but constantly remain true to the original inception. Lo and behold before your eyes you will experience the breathtakingly depths of crystal and feel like you´re diving into a virtual dream.

   

Lirone´s artwork has been featured in galleries all across the world in the likes of; Paris, New York, Geneva, Courchevel, Megeve, Honfleur, Saint Tropez, Cannes, Saint de Vence, Tel Avivi, Jerusalem amongst others. Notable companies have also purchased his work – LVMH, Grevin Museum, Euro Media France as well as well-known art collectors.

   

Art Wanson Group

is a dedicated family of individuals whose aim and philosophy is the creation of excellence in Art, Design, Architecture, Cultural Strategies and Luxury Projects and who suggests a portfolio of one-of-a-kind assets to offer their luxury-seeking clientele as investments. Art Wanson Gallery is a leading modern and contemporary art gallery presenting many of the most significant international artists of the 19th, 20th and 21st centuries; Art Wanson preserves the art's origin beauty and provides the visitor with a once-in-a-lifetime experience, accessing works of talented artists and Master Collections.
MN Comunicación invited the guests and were in charge of the communication.