Elisabetta Franchi opens her new boutique in Puerto Banús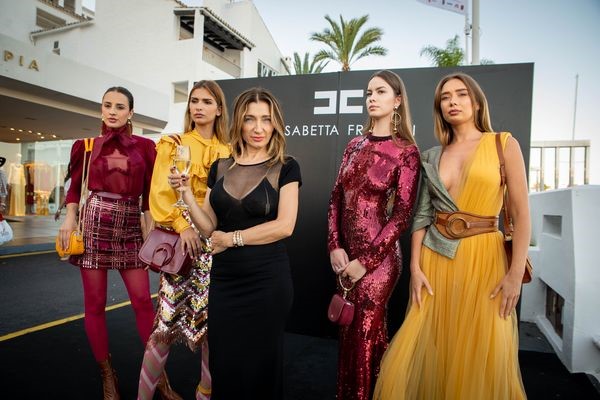 Many high-profile personalities and familiar faces turned out to welcome Elisabetta Franchi at the opening of her new boutique in Puerto Banús
ELISABETTA FRANCHI has confirmed her standing as one of Spanish fashionista´s preferred designers with the opening of her new boutique in Puerto Banús on the Costa del Sol.
Her third boutique in Spain, this new opening represents further confirmation of the expansion in Marbella where the brand has experienced significant growth.
The ELISABETTA FRANCHI collection awakens a passion – not only in the Spanish clients who live in Marbella – but also the tourists here and the many celebrities who favour ELISABETTA FRANCHI creations for red carpet events and important social occasions.
Italian designer, Elisabetta Franchi, celebrated the opening of her new boutique with a cocktail party attended by numerous well-known faces, including Evangelina Anderson and Martin Demichelis among others. More than one hundred guests were invited to preview the new fall-winter 2018 collection of the Italian designer, inspired by the 70s and intended for a strong and independent woman who maintains her sensuality.
Using the colour ocher as one of the inspirations for the collection, Franchi explained that she chose the 70s "because of the strength of the feminist movement of those years". Known for her commitment to animals, the design of the Italian firm do not use any materials of animal origin. Elisabetta Franchi was enthusiastic about the opening of her new boutique and declared herself in love with Puerto Banús and Andalucía.
After the in-store cocktail party, an exclusive dinner was held in her honour at the Trocadero Arena restaurant, which was attended by many other guests, including the Duke and Duchess of Seville, Francisco and Isabél de Borbón and the national basketball coach Sergio Scariolo with Blanca Ares.  MN Comunicación organised the opening event held at the store, the private dinner at Trocadero Arena, they managed and invited all the guestsas well as managing the communication with the media and the arranging of interviews.
Elisabetta has been growing in popularity in recent years, as more and more celebrities have chosen to be dressed by this designer who first started with a craft workshop in Bologna in 1996 and whose designs have been recognised on all the red carpets throughout Spain. Nieves Álvarez, Malú, Marta Sánchez, Blanca Suárez, Adriana Lima and Eugenia Osborne are some of the faces that have been seduced by the feminine lines and full of strength of the prestigious Italian designer.