Conference and agreement signing with UMA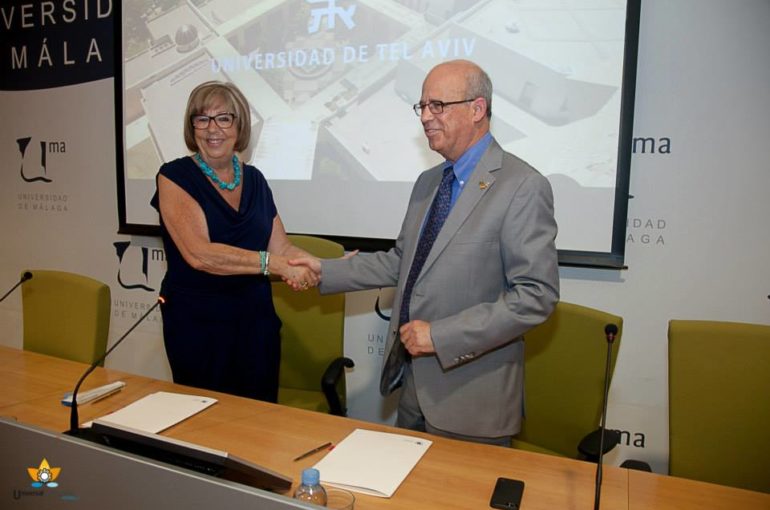 The University of Tel Aviv successfully completes their official visit with a business collaboration with UMA. The delegation from Israel kept to a tight schedule over 3 days.
Marbella, 18 July, 2014: The delegation representing the University of Tel Aviv today ended its official visit with the signing of a collaboration agreement with the University of Málaga.
The MOU (Memorandum of Understanding) agreement, gathers some basic points of collaboration between the two academic institutions: curriculum and student exchange, reciprocity in artistic and cultural activities and organization of joint seminars on relevant topics.
In the Rectory building of Málaga, at 11:00 am, in attendance on behalf of the UTA were: Professor Joseph Klafter, President of Tel Aviv University, Amos Elad, Vice President, Herman Richter, President for Spain and Latin America, Patricia Nahmad, representative of the UTA in Andalusia, Rafael Cohen, Honorary Consul of Israel in Andalusia and President of the Jewish Community of Marbella, Mrs. Remedios del Rio and Marie-Noëlle Erize, Communications and PR. On the UMA´s part, the rector Adelaida de la Calle, the highest authority of the University of Malaga, took part in the official event, accompanied by members of her team as well as chair representatives and other university directors. After signing the agreement, and during the course of the morning, the Israeli delegation was also invited to a private ceremony held by the Mayor of Málaga, Francisco de la Torre.
The official presentation of the University of Tel Aviv took place on July 16th, at the press conference in the H10 Andalucia Plaza Marbella, led by Herman Richter and Patricia Nahmad. Mr Richter began his speech by wishing peace to all attendees, then highlighting the importance of education as a developer and source of knowledge to improve justice, welfare and happiness in the world. He then talked of the profile of students at the University of Tel Aviv, noting that of the 30,000 students enrolled at present, 15,000 are postgraduate students, conducting research in both scientific and human fields. He also mentioned its 1,800 foreign students, a number which UTA hope to expand on with the signing of the agreement with the UMA.
At 8pm on the 17th July the President of the UTA, Professor Klafter, held a conference at the hotel to an audience of 200 people. Isaac Querub, President of the Association of Friends of the UTA, introduced the conference, that centred on the importance of "intercultural connections", speaking about how universities main task is in fact to "establish positive bridges and build the future of humankind through globalized knowledge". Following this, Klafter started by reminding us that: "We cannot forget the difficult situation that is happening in Israel right now (…). Improving the world through research and education is our obligation and that cannot be forgotten under any circumstances."
After the busy three day schedule, which concluded today in Malaga, the university representative in Andalusia Patricia Nahmad said: "It has been a very intensive few days in terms of institutional, corporate and social relations in the province, on behalf of the college representatives we hope relationships will continue. On our part, the Association of Friends of the UTA, we promise to continue collaborating and organising possible conferences, concerts, art exhibitions … and other activities in Andalusia related to this academic institution. "