Club Med returns to Spain with a new resort in Marbella for summer 2019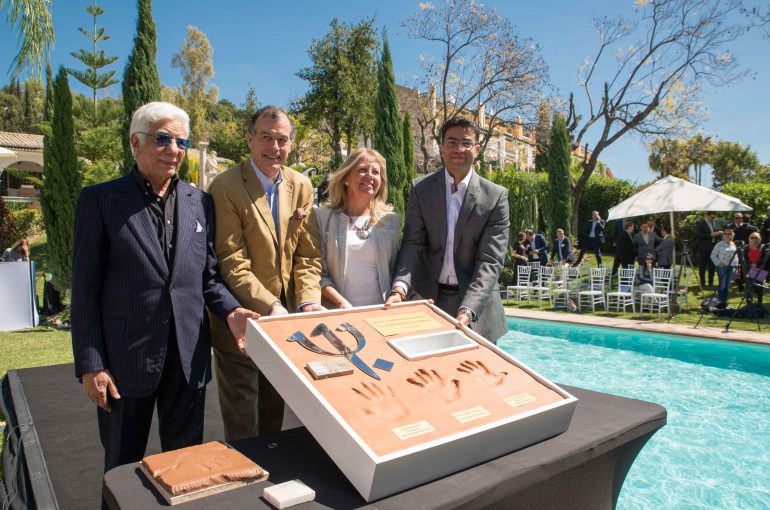 Marbella – 19th of April 2018 in the presence of:
– María Ángeles Muñoz , Mayoress of Marbella
– Dr. Dokali Megharief, Founder of Magna Hotels & Resorts
– Jihad Megharief, President of Magna Hotels and Resorts
– Henri Giscard d'Estaing, President of Club Med
 Club Med returns to Spain
Club Med began its global adventure in Spain in 1950 – with the first ever Club Med at Alcudia Beach in Mallorca, so Club Med is delighted to be returning to Spain with the property owner Magna Hotels & Resort to turn Marbella Club Med into the best all-inclusive family Resort in line with the standards of Club Med new upscale repositioning strategy.
For Magna Hotels & Resorts and Club Med this project accounts for a total investment of nearly 72 million euros.
Renovation work of the existing building and of its 486 rooms began in April; the opening is planned for July 2019.
This project will create 300 direct jobs and about as many or even more indirect jobs.
Many activities will be ensured by local providers and will generate significant local economic benefits and significant tax benefits in the area, that will be immediate and recurring to the Andalusia region.
Marbella, the new family premium flagship of Club Med in Europe
Ideally located between the sea and the mountains in an outstanding setting, featuring rich cultural and historical heritage, Marbella is a unique destination.  
Its stunning location is a convenient 30 minutes from Malaga airport, ideal for international customers.
Vibrant and colourful, the resort's unique design is inspired by strong cultural themes owing to the talent of the French designer Marc Hertrich.
This completely renovated Resort will host a family clientele due to its comprehensive range of childcare from 4 months to 17 years and will offer a wide variety of sports, wellness and cultural activities, valuing the Andalusian way of life.
Marbella Resort will operate 11 months per year and will have a great potential to welcome groups with its complete range of meeting and event facilities.
With their new Marbella Resort, Club Med is renewing its history with Spain as the very first Club Med Resort was Alcudia Beach in the Baleares, while strengthening their unique positioning as a world leader holiday group in premium all-inclusive holidays.
On the occasion of this site visit, Henri Giscard d'Estaing, President of Club Med, said :
"I am very proud and honoured to celebrate with our partner, Magna Hotels & Resorts, the rebirth of Club Med in Spain.                             
As a world leader in premium all-inclusive holiday with wide brand awareness, Club Med has a capacity to attract a family clientele from all over the world due to its presence in Europe, Asia/China, North and South of America.
The opening of the first Exclusive collection resort Club Med Cefalù in Sicily, the opening of future flagship in Marbella and the ones that will follow on the few next years confirm the ambition of Club Med to redevelop in Mediterranean Europe."  MN Comunicación organised the event, invited the guests and organised the integral communication with the press.
About Club Med
Founded in 1950 by Gérard Blitz and Gilbert Trigano. Club Med is the inventor of the all-inclusive holiday concept and children's club, with the launch of Mini Club in 1967. Driven by a pioneering spirit, Club Med is a true discoverer of the world's most beautiful destinations and sites.
Club Med is the worldwide leader in premium all-inclusive holidays with French know-how targeted at families, couples and friends.
Club Med presently operates about 70 Resorts, three-quarters of which are 4-Trident and 5-Trident Resorts. Operating in 26 countries spread over the five continents, the Group employs over 23,000 GOs and GEs of 110 different nationalities.
About Magna Hotels & Resorts
Magna Hotels and Resorts S.L. acquired the World famous Hotel Don Miguel in Marbella, Spain in 2012.  
The company is a member of an International group that specializes in executing innovative projects focused on Real Estate Development, Asset management and Hospitality business.
Magna Hotels and Resorts aims to create customised services and develop pioneering projects in the hospitality industry.