Closing event of Marbella Luxury Weekend 2014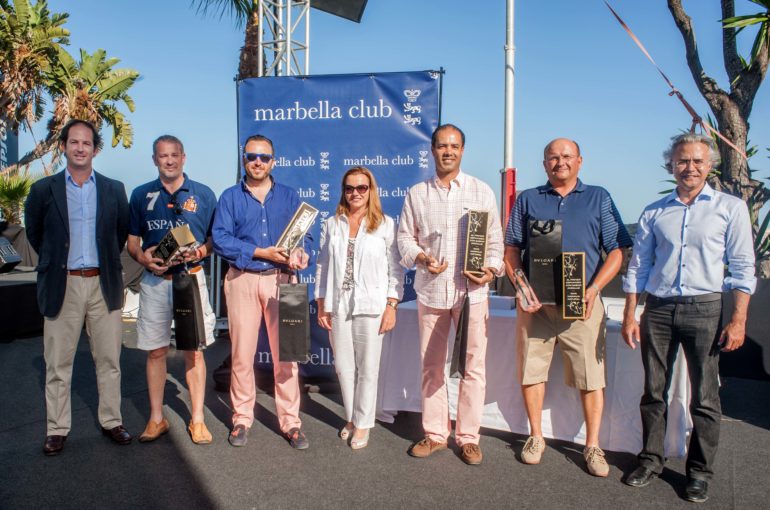 Marbella, 8th of June 2014: Marbella Luxury Weekend (MLW) says goodbye to this year and starts working on the next. After four intense days of activities and events, the organization states that they have "covered all the objectives." In the words of the Counsellor of Tourism, José Luis Hernández, "participants, firms and employees are happy and satisfied with the final results of the event." He stated his intention to offer a press conference in the coming week where real figures will be provided.
Hernández wanted to take this opportunity to publicly acknowledge the hard work carried out by the organization. "We recognize the efforts and hard work of these people, without whom none of this would have been possible." And with these words he called Elisabeth Op de Beck, Oti García Gambrona, Desiré Mora and Marie-Noëlle Erize onto the stage.
During the final event, held in the VIP area by the Tower and enlivened by the musical group Petiswing, the SOS Foundation International Children's Day held a raffle for prizes donated by several luxury brands. To do this, we had the presence of two of its main partners, and Ana Lourdes Palma Antic, both prestigious stylists and bloggers.
Raffle winners who could not attend the event will have to contact the SOS Foundation to collect their gifts through their website. The winning raffle tickets will also be announced on the social networks of MLW.
Among the prizes worth thousands of euros, there were gifts from brands such as Folli Follie, Carolina Herrera, Massumeh, Gomez & Molina Jewellers, Ghd, Glow Wellness & Fitness, Ventura Yachts, El Gaucho de Banús, Essentia, Hotel Puente Romano etc… A total of thirteen prizes.
The closure was also used to present the trophies and prizes to the finalists of the MLW'14 Golf Tournament. The winner was the Orange Sox team that was awarded a trophy and gift from Bulgari. The second and third places were awarded to teams Bang & Olufsen and Playas del Duque, who received their prizes from Cartier and Burnarj.
Once again, participants, partners, sponsors and organizers of MLW have been working hard to ensure the thousands of attendees at this event, from all over the world could enjoy and learn about the latest developments in motor, jewellery, sailing, fashion and cuisine.
Gómez & Molina Jewellers, Bulgari, Cartier and Tourbillon presented their latest collections of jewellery and watches.
Hoss Intropia, Escada, 7 for all mankind, Tod's, BDBA, Sunglass Hut, Elite and Salvatore Ferragamo offered the latest trends in fashion and accessories.
Thanks to Ecocarinvest, Guarnieri, Marbella Marina and Ventura Yachts we discovered the new developments in green cars, prototypes and incredible luxury yachts.
Meanwhile, Playas del Duque and Lifestyle House displayed some of the finest and exclusive areas around Marbella.
Regarding the gastronomy section we cannot forget the culinary delights offered by El Gaucho de Banús, Carpaccio, Black & White, Aretusa, Dani García CocinaCONTRAdicción, Salduna Catering, Sinatra Bar, Funky Buddha, Shisha Lounge, Plaza Beach, El Gran Gatsby, Burnarj, etc..
Timeless Gallery displayed their amazing sculptures and paintings while Outdoor Concepts exhibited the latest trends in outdoor furniture and terraces.
There were luxurious and exclusive options for everyone at MLW, meeting the demands of even the most exquisite tastes.