Ambrosía´s Gourmet Market amazes the city´s finest chefs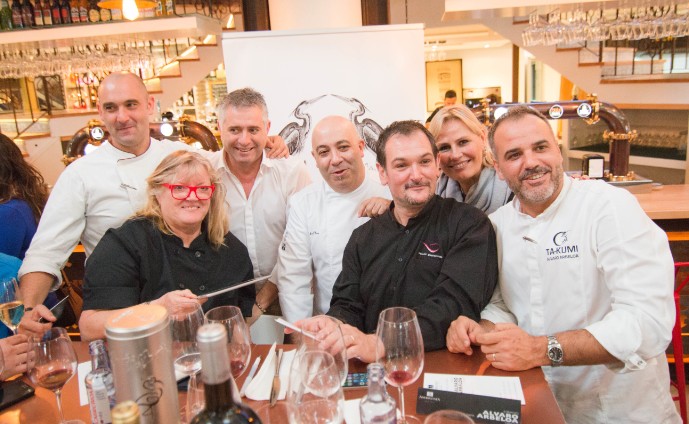 Diego del Rio, Álvaro Morales, Aitor Perurena, Evelyne Ramelet and Álvaro Arbeloa become the professional jury of the Tapas Competition.
Marbella, 16th of November 2015: Ambrosía´s Gourmet Market has become an authentic and gastronomic reference point along the Costa del Sol, with its gourmet food fit for all budgets. Since its opening, the market´s customers have been expanding and diversifying as a result of the numerous events hosted in their space. This success was proved with the celebration of the second Tapas Tasting Competition. This event took place last weekend on the 14th and 15th of November, and was graced with the presence of some of the most important chefs and culinary personalities (not only on a local level but also on a national and international level), acting as the expert jury on Saturday; Diego del Rio, Álvaro Morales, Aitor Perurena, Evelyne Ramelet y Álvaro Arbeloa. Proudly wearing their aprons, these professionals, fresh from the world of gastronomy, were in charge of electing the best tapa amongst all the stands that make up the establishment. The contest held great expectations and attention from the media as well as the public. As they each chose their preferred tapa, they made an executive decision that the winner of the competition belongs to stall number 1, La Croquetería, with their creation ´Croqueta del bosque en otoño´.Throughout the tasting executed by the professionals, the dishes were paired with wines such as; Verdejo, Crianza, Reserva, Señorío de Caleruega all belonging to the Linaje Garsea, a winery that provides these renowned brands to the Royal Household.
Ambrosía´s visitors also chose their favourite dish. On the one hand, the decision was made by ´a jury´ formed of around 20 people, previously elected into the position via Ambrosía´s social media page. On the other hand, the rest of the public also contributed their opinions and scored their preferred tapa throughout these few days. Sharing their taste with the masters of gastronomy, they also opted for the ´Croqueta del bosque en otoño´ tapa, which ultimately was announced as the winner. At the end of the contest a raffle took place, where prizes of bottles of wine and the market´s finest chocolate were won by the guests. Ambrosía Gourmet Market´s main objective is to provide the general public with premium, high- quality products, and as a result, the celebration of these gastro-events will continue throughout the year.
NOTES:
 Diego del Río is one of the most prestigious Andalusian chefs in Spain. At only 40 years old, he has spent 10 years as the head chef at, El Lago in Marbella. This restaurant was the first to receive a Michelin Star for Marbella, as well as boasting two Repsol suns. He has attended some of the best schools in the world such as; Le Cordon Blue in Paris, the birthplace of many culinary masters. He then went on to attend Westminster College in London, where he received his training to be Head chef. Many large, International brands count on him to promote their image as a result of his fame. He is one of the most high-profile, Andalusian chefs in Spain, as he offers a multitude of interviews and often takes part in television and radio programs, including Masterchef on TVE. He has received extremely prestigious awards throughout his career, some of these include; el Castaño de Oro, from Pujerra´s City council in Málaga and the Paúl Schiff Prize "The best Head Chef" awarded by The Gastronomic Academy.
 Álvaro Morales, strongly states he was "born to cook", and also played another member of the jury. He has crossed the national and international gastronomic map, from Madrid to Washington, whilst passing through Seville, Dublin, Puerto Banús, Málaga and Ibiza. Entrepreneur born, he likes to face new challenges and today, he maintains his position as head of the restaurant, La Marea, and his gastronomic platform Cátame 2.0.
 Aitor Perurena now owner of Estudio Gastronómico and Restaurante 1870, completed his studies at la escuela de hostelería de San Sebastían following his work for -Le chapón fin, in Bordeaux with 2 Michelin Stars, and the Martin Berasategui restaurant sustaining 3 Michelin Stars- also participated in the choosing of the best tapa.
 Evelyne Ramelet, a journalist specializing in European gastronomy, is the author of two Spanish books; "Como utilizar los restos de comida" and "Perder peso sin esfuerzo". Evelyne has also collaborated with France´s national radio with more than 2000 articles related with European sociology: "L´Europe des Gourmets" and with gastro-cultural programs. Similarly, she undertook a cooking show on Canal Estival TV and, on Canal
Cocina; she hosts a programme, teaching about the French cuisine since 2011.Moreover, Evelyne has been giving cooking classes for 15 years, (more often in France than Marbella), and continues to be a home chef in Marbella. As a result, she chooses a wide variety of her own recipes in which she includes in her Spanish blog: www.evelinramelet.es. Every winter, Evelyne organizes seminars and culinary events just like estancias de gastro-turismo in Andalucía. In addition, she can boast of having inspired the creation of Convivium Slow food in Marbella- Costa del Sol, with the help and involvement of excellent gastronomy and wine professionals.
 Álvaro Arbeloa started his professional training in la escuela de hostelería de Marbella situated in the Hotel Bella-mar, where he discovered his passion for cooking and the respect and love for the vocation, with the help of the esteemed chef, D. Manuel Atienza. He continued his professional training by attending various establishments and companies such as, el Hotel Kempiski. Subsequently, Álvaro moved to Shanghai (China),where he opened the first Spanish restaurant in 2001. In that moment, he contacted professionals of the Asian cuisine along with Japanese chefs, whom influenced his cultural knowledge of gastronomy. Throughout his Asian experience, Álvaro Arbeloa developed the role as executive head chef in the prestigious, Mantra Hotel Resort, Spa & Casino, (5 stars) in Punta Del Este (Uruguay). On the island of Mallorca and in the Hotel Blau Portopetro (5 stars), he was also head chef for more than 4 years. It was in that moment when he coincided with Toshio Tsutsui, and through developing an amicable and strong relationship with one another, they decided to start their own professional business: the restaurant Ta-kumi, located in Marbella.