Ambrosia Gourmet Market Press Conference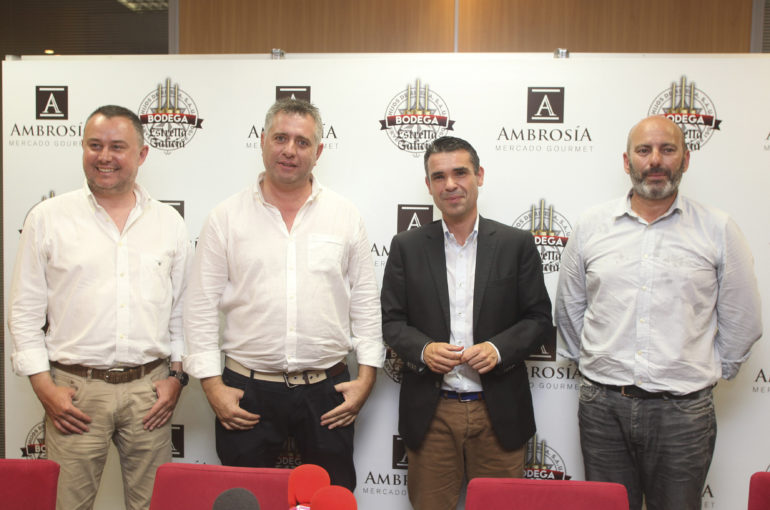 Ambrosía Gourmet Market Marbella, in Puerto Banus, will offer a new eating experience that satisfies all the senses. With a million euro investment, 14 stalls from select brands and the support of Estrella Galicia Bodega, this market will be the first of its kind in the Costa del Sol.
Marbella, 13th July 2015: "Ambrosía Gourmet Market Marbella" was presented to the media this morning, a new eating experience that will open to the public on 23rd July in Puerto Banus (Marbella). The modern gourmet-market will offer customers the chance to taste a selection of products and purchase delicatessen from various brands at a reasonable price, all in one place, whilst enjoying a calendar of free cultural and culinary events. The mayor of Marbella, José Bernal, attended the event and gave both thanks and congratulations to the investors of this project who are bringing Marbella a new eating experience that breaks traditions, as it will be open 365 days a year, and generates jobs for many people in the area. He described it as a "project for the future" of great interest as "it places Marbella on the map of national gourmet-markets, alongside major cities". Joint-owners of AMBROSÍA, Antonio Ortiz and Gabor Somlai, explained in depth the details of their project. Firstly, they wanted to thank the 14 brands that make up the final selection of market stalls, as well as beer-makers Estrella Galicia Bodega who are supporting the project. According to these businessmen, there were so many companies in contention for a place at AMBROSÍA that they had to create a 'food committee' to choose the final selection (the same committee will assure that the high expectations for quality products and services will be met at the stalls and in the restaurant). The architect in charge of the project, Javier Romero from DH Estudio, was also present at the press conference. This private initiative, with an initial investment of one million euros, will be led by a team with extensive experience in luxury food marketing of the highest quality. They are looking to expand the food and leisure industry within Marbella by introducing this unique and unprecedented concept to the area. In fact, it will be the first market of its kind in the Costa del Sol. There will be 14 stalls dedicated to national and international products, among which include: wine, cheese, Spanish ham, croquettes, rice dishes, cocktails, octopus, crepes and various specialties from Japan, Italy and Thailand. Compared to other markets of this kind, such as those already existing in major cities like Madrid, Barcelona, Seville and Cordoba, AMBROSÍA will be a complete novelty as customers can taste products at the restaurant's mezzanine, which seats approximately 100 people. The restaurant will prepare a daily menu with a starter, main course and dessert, using products from the 14 different stalls. Waiters will serve the menu, creating a more formal tasting environment (and the lounge may even be booked for private or public events). AMBROSÍA managers told the media that "it was not easy" to find a building in the Puerto Banus area that had all the necessary characteristics to take on the project. "It was essential for the chosen site to have its own parking space, be well-linked to the motorway, be easily visible and have sufficient space (in terms of both square meters and altitude) to be divided into several different stalls," explained Antonio Ortiz.
The promotors of Ambrosía Gourmet Market Marbella finally settled on a site that met all the requirements. The premises measure 1000m2 and are situated in one of Marbella's well-known, valued urbanizations: La Alzambra (at the north entrance of Puerto Banus). The interior needed many reforms in order to turn the building into a wide-open space, equipped for 14 different stalls, each of which were personalized according to the needs of each brand. They also needed to create storage areas for each of the tenants; install light and individual water supplies; design staff changing rooms; make adjustments to the market's general office and introduce some security and emergency measures; all of which are in the process of being completed. The result will be a unique gourmet-market with both Andalusian and cosmopolitan influences, and a capacity of 400 visitors.
Since Ambrosía Gourmet Market is expected to have a great impact on the town's economy, tourism and media, the town council of Marbella is supporting the project. Although it is too early to estimate how much profit this gastronomic multi-space will make (the figures will have to be calculated when the project is up-and-running) its impact on the labor market is already clear. This project has already generated almost a hundred permanent jobs in catering, sales, administration, security, cleaning and customer service, as well as an incalculable number of jobs that will be created as an indirect consequence of its opening (transport, tourism, services, etc.) It must also be noted that the project will support many other companies in the province, who will be providing the market with additional services.
The public will have free, open access to Ambrosía Gourmet Market Marbella, which will open officially next Friday 24th July at 9am.