A score of companies will be participating in the first actualisation of Wine Time Marbella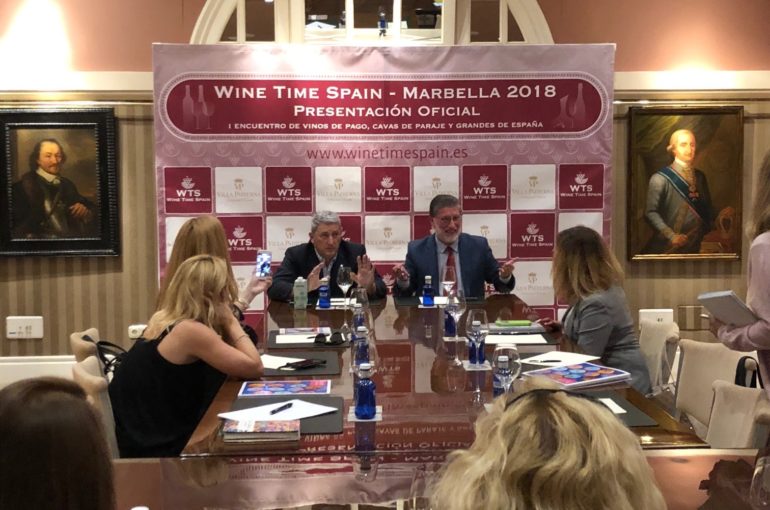 The convention, which will be held on the 7th and 8th of June at the Hotel VillaThe convention, which will be held on the 7th and 8th of June at the Hotel VillaPadierna, combines gastronomy and art in a unique opportunity to get to know the "vinos de pago", "cavas de paraje" and "grandes de España"
Marbella, May 29th.- A score of, exclusive wines, including the finest "vinos de pago", "cavasde paraje" and "grandes de España", as well as a selection of gourmet gastronomic products,will participate in the first undertaking of Wine Time Marbella, a meeting that will unveil toboth professionals and the public some of the world´s most exclusive wines, but also thosewines of excellence that for lack of means usually do not reach the final recipient. Theconvention will be held between the 7th and 8th of June at the Hotel Villa Padierna.
According to the event´s organisers, Wine Time Mabella´s technical director, Nobel Llera andthe marketing director José Casales, the convention´s concept was born following a positiveresponse of their wine fair Wine Time Spain that was held in Alhaurín de la Torre in 2016 and2017. Both saw a gap in the market and were eager to create an event exhibiting the mostexclusive products for a more select audience. In this manner, the public can discover some of the most prestigious wineries in the country,but also small production wines of very high quality that are not yet known."What better way than to exhibit the best, those who have triumphed, and those starting up,"said Llera, underlining his intentions, "learn from the great wines for the smaller vineries andshare success"The reception among the wine companies has been a success, "We had to say no to somewineries to safeguard the spirit of the meeting," explained Llera, given that in a very short timethe number of expected participants was reached.
Thus, Wine Time Marbella becomes the perfect meeting point for both worlds to cometogether in an experience that wants the public to have fun. For this, the organisers have programmed a wide range of activities over the two days, aroundtastings of both wines and gourmet products, including several brands of the Sabor a Malagalabel.Thus, in addition to talks with prestigious experts such as Isabel Mijares, the first wineryenologist in Spain "and one of the people who truly knows the world of wine," Wine TimeMarbella will host gastronomic exhibitions and tastings, always "looking for excellence".
There will also be an art exhibition, displaying work by local artists and new artists from the area ofMálaga.The entrance to the event will be by invitation, as confirmed by the organisers, "in order tomaintain that exclusive touch".This will be "a different format than what we are usually used to in Spain". The idea of thisexhibition and convention is to repeat it in Marbella over the coming years, although they donot rule out similar events in other parts of the country that would be focused on otherspecific wine areas.