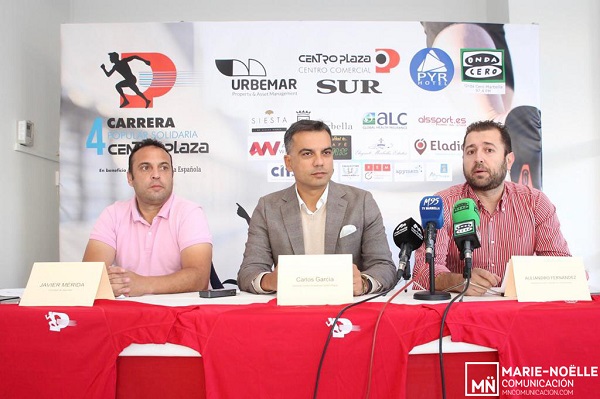 Centro Plaza will host its IV annual charity race in aid of the Marbella Red Cross on the 27th of January
The event was presented this morning with the assistance of the Councillor of Sports, Javier Mérida, the Head of Emergency Services for the Marbella Red Cross, Alejandro Fernandez, and the manager of Centro Plaza shopping centre, Carlos García
Marbella, 21st of January 2019: For the 4th consecutive year, Centro Plaza shopping centre is hosting its charity race in aid of the Marbella Red Cross. The race will take place on the 27th of January and will follow its usual trajectory, starting by the hotel PYR in Puerto Banús and ending in the Centro Plaza shopping centre. The event was presented this morning with the assistance the Councillor of Sports, Javier Mérida, the Head of Emergency Services for the Marbella Red Cross, Alejandro Fernandez and the manager of Centro Plaza shopping centre, Carlos García.
During the presentation, the Councillor pointed out the importance of these private initiatives which aid in the promotion of sporting and charity events and encouraged citizens to participate: "It is a pleasure for the Town Hall to participate in events like these" added Mérida, who will not be running this year but will be present to support the event.
Carlos García, manager of Centro Plaza, highlighted that "Inscriptions can be made online, at centroplaza.es, through Dorsal Chip or in person at the Centro Plaza management offices which can be accessed directly from the parking lot of Centro Plaza, until noon on the 25th of January. For those who decide to enter last minute, they may do so at the starting point of the race before it begins, between 8:30 AM and 9:30 AM".